FIND AN OBITUARY
Service information is posted on our website only with approval from the family.
If you are seeking information not listed below, please contact us.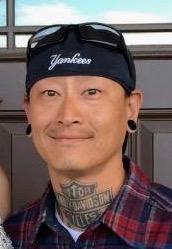 Richard "Bill" William Peenstra
02/22/1977 — 09/21/2022
From Kennewick, WA
Watch Service
New to Livestream? Watch the tutorial.
Celebration of Life
Starts:
Mon, October 3, 2022, 12:00 pm
Ends:
Mon, October 3, 2022, 1:00 pm
Reception
Starts:
Mon, October 3, 2022, 1:00 pm
Ends:
Mon, October 3, 2022, 3:00 pm
Richard "Bill" William Peenstra
Bill Peenstra passed away quietly on September 21, 2022 from complications of kidney disease after a
tough battle well fought.
Bill was born in Seoul, Korea on February 22, 1977 and came to be part of the Peenstra family in
November of the same year. His sister, Sarah, was born in May the following year and our little nuclear
family was complete.
Bill attended school at Sunset View, Desert Hills and Kamiakin, where his tormenting of teachers and
principals was worn like a badge of honor. His Dad came to know many of them on a first-name basis. It
wasn't that Bill didn't like school, (well, actually he didn't), he just had bigger and better plans and
school kind of got in the way.
Bill did various jobs after leaving school, but he really enjoyed the food service business, tending bar at
Sam's Saloon, Jacksons and Coyote Bob's. He also loved working at Progressive Machine in Pasco. He
made many friends while working because he was a good worker and loved his customers and they
loved him back. Bill was a friend to many and if you were lucky enough to be his friend, he would do
anything for you.
Bill's two most favorite things were playing his guitar and riding his motorcycle. When he was about 25
he took the "long ride" to Sturgis, SD and just kept going. He got to visit the Harley factory in Milwaukee,
and continued on to New York, Florida, Louisiana, Texas, New Mexico (pending ticket there), California
and then home to Washington. When he was home he loved to "jam" with his friends on bass guitar
and on drums.
In 1999 Bill was blessed with a daughter, Alexis, and she was the love of his life. She came to live with
our family and he was in her life every day. The love and the bond between them was palpable.
About 15 years ago on a Memorial Day ride to Woody's Pig Roast in Dayton, Bill was sideswiped by a
trailer and he lost his left leg. He had an Angel riding with him that day in the form of an EMT who used
his belt as a tourniquet until they could airlift him to St. Mary's Hospital.
Although he struggled a bit with a prosthetic leg, in less than two years he was back on his motorcycle.
His biking friends, who are legend, helped rebuild his motorcycle with a hand-operated gear shift lever
because he couldn't handle the foot shifter. He was simply amazing on that bike and rode it up until the
time he passed away.
Bill lived by himself in a toy-hauler travel trailer so he could have his bike in his house. He collected Star
Wars memorabilia and other eclectic things and was so proud of decorating his house.
His health began to deteriorate a couple years ago and he had to undergo dialysis three days a week
which was brutal on his body. But he never, ever complained because he knew what he had to do to
remain with the family, especially Alexis, as long as possible. He fought so hard and was the strongest
person I know. Finally, his body gave out from complications of kidney failure. He went to sleep one
night and just didn't wake up.
Bill was preceded in death by his Grandparents, and is survived by his parents, Rick and Pat Peenstra, his
sister, Sarah Clark (Brady) his daughter, Alexis Peenstra, uncle Mark Peenstra (Nikki), Aunt Gloria and
cousin Andrea Gardner (Shelby). And too many awesome friends to mention, but particularly members
of the Brotherhood MC. Thank you guys for being there for him always. Always. Bill was a kind and
gentle spirit, a good man, loved by many and will be missed by all. Godspeed my son. We love you.
It's 11:38 pm Wednesday, August 9th 2023 and I'm just thinking about PAM, Gooks of Hazzard, Slayer, untuned drum sets with 80 toms, and one stringed basses. Local legends have been made. Blood has rained. The next time you're feeling angsty you should carve "Bill Peenstra" into your forearm.
I met Bill at Rattlesnake Harley and liked him immediately, he will be missed .
Much love to you..you were a wonderful friend who made us always laugh. THANK YOU
You were a special person. I know your friendship will be missed by so many. I met you through my son Jessie Verduzco many years ago. My son really admired you. I wish your family peace during this time of sorrow. God bless you
I will always love and miss you Dick Bill Platypus. You are the best friend I've ever had. I will try to be like you now. I will try to always show up. I love you.
Katie Rose Whitaker
Ive known bill for a long time. He always had a smile when he'd greet you. Great guy. He will be missed
Billy was an awesome person, I met him while working at Rocket Mart and he used to come into the store before his meeting. There was never a time that he didn't have a smile on his face or a kind word to say. He will be missed by many!!
#35 to #78.
Do you copy?
Billy, Enjoy your 10-7!!✌️ I will always think of you and the first time we met. At work. PURE DETERMINATION with a HEART OF GOLD. 💯. Over and out. 👍❤️✌️
Well , I am sitting here crying like a baby and you wouldn't like that I got to know you through the school system district and boy you gave me a run for my money. Well you had to be such good friends I'm gonna miss you always and forever there was only one Bill
💞😪Dear Bill you will be so missed for sure..You even had smiles on your face and a great attitude when you were in the hospital, and your fun loving nature always came out..And your love of your family was truly Special..Good thoughts and prayers to you my friend..💞🎼Terrie
It was always fun talking to you at Sun Mart where I worked. You were a very cool and friendly guy every time. Thank you so much, Bill. You will be very missed.
Such a loss. My heart is saddened for his family whom I knew growing up in the neighborhood. Bill was a rare breed, fearless, fun and certainly provided a lot of "firsts" as kids! Rick, Pat and Sarah, may God give you some peace through the grief.
I met Bill at karaoke years ago and he always had a smile and loved to sing and hangout. You truly will be missed Bill!
Bill, we truly had some of the best times of my life. Hanging out till the early hours of the morning smoking cigarettes and talking music. Starting our band PAM and you always telling me my mom was a Cougar. You surely could always bring a smile to everyone in the rooms face. I can hear your voice and your contagious laugh that I will always remember. You also were around during the toughest days of my life battling Epilepsy. I can't remember how many times you where the first face I woke up to after having seizures. You and I had so much in common you felt like family to myself and to my parents. I also remember giving you a SLAYER tattoo and you encouraging me that it was going to be awesome. You repped that Tattoo like it had been professionally done but you and I both know it wasn't. I love you Bill and you will always hold a special place in my heart. When I ride my Vespa I will always hear your voice while Blasting Slayer. RIP Brother.
I remember back in middle school when we would take a trip to the mall and spend our allowance on cap guns at K-B toy store. Then we would run around the mall firing off cap guns and mall security would surround us and escort us off the premises and tell us never to come back. Bill you were one of the best and one of the funnest friends I ever had. We grew apart over the years but when we saw each other we would always reconnect. I remember how you would tell me about your trips and your accident but you always loved talking about your daughter and how much you loved being a dad.
For the past several years I never knew what you were up to until I found out a few days ago you died. My heart breaks for what you've been going through, my heart breaks for your family and most importantly my heart breaks your daughter. You were not just a good friend. You were one of the best friends I ever had. I'm going to miss you and I'm never going to forget the fun times we had together. I'm going to miss you Bill. You're going to missed.
I was shocked and sad to hear of Bill's passing, and I am equally sorry for such a huge loss to your family. I first came to know Bill in high school, and then reconnected a few years ago after moving back to the area. Whenever we spoke, he always had so much to brag about his daughter Alexis – it was easy to see the love and pride he had in his daughter attending WSU. His loss will be felt, and he will be dearly missed.
Dearest Rick, Pat and Alexis,
Please know that you are all in our thoughts and prayers. We feel blessed to have known Bill, always a smile on his face and kindness in his heart.
Miss you. Miss our talks. Take care of Sarge till I come home. Love you❤️
Bill, we really missed you this last weekend. Many memories where shared, good laughs and a few tears. I'll miss you coming to keep Nic company every Wednesday to watch Star Wars, hope he doesn't think I'm going to watch it with his now 😉 Gosh, so many people have reached out, you've left an incredible mark and are loved. Ride free, hope there's lot of smooth road, amazing views and a cougar up there for you ❤️
Billy you always a smile on your face and it was contagious. My family and I will miss you and your dog Chip coming to our house for taco nights. Ride hard, ride fast, ride pain free Billy. You are forever missed.
What an awesome obituary for an awesome man and brother. You will always be in my heart lil billy. L&R
Bill, you will be missed! No matter the distance or length of time, you always remembered my name and took the time to say Hello. You were an amazing man. Rest In Peace.
Rest in Peace Brother !
Until we meet again 🙏🙏🙏
I am so sorry for your loss. I remember when Billy came to you, and how adorable both kids were when they came to see Dad at the bank.
Prayers for your family during this difficult time.
May you rest in peace.
RIP Billy the Kid.
You will be missed by everyone that met you. No you are riding the highway in the sky. Hopefully there is no speed limit there because I think you may get pulled over. Going to miss you.
Bill was considered a special part of the Weems household, throughout his life.
Bills desire to live life to the fullest brought him3500 miles to our place out on Tybee island. a
true biker ,one leg and a worn out motorcycle heading out west during the worst possible weather conditions ,try doing thatyou lightweight yuppies,with that big smile,not letting anything get him down .Love you Bill, Pops Weems and Charlie
Billy, you were a good friend and you will be missed. It's so sad to lose someone so young. Unfortunately we never got to ride together but we had some great stories to share.
My condolences go out to all that loved Bill. We had great memories in high school. May he Rest in Peace.
I always loved Bill. "Billy the kid" sometimes known as. We rode on motorcycles together he helped me build my school bus project, and he was always available when I needed a hand. We had many conversations and I will miss him greatly. He always called me "Schooly T" because of the school bus project.
Alexis was always on his mind and part of our conversations. Ride on lil brother.
I always enjoyed Bill while at Kamiakin High School. He was always nice to me, in between him making his teacher's pull out their hair! I'm so glad he enjoyed his life even with all the hardships. Rest in peace Bill!
I'm so sad to learn of Bill's passing. I have many memories that include him from when we were kids. He was like a brother to me and the rest of Sarah's friends back then. Sending my love to Rick, Pat, Sarah and the rest of his family and friends.
Bill I am so sad to hear of your passing. You were always such a amazing person I knew you ever since Vista elementary and I will cherish all the memories I have of you growing up in my life. You will forever be missed R.I.P. my friend
Bill, I am saddened to hear about your passing. You are one of the nicest people I have ever met. You were always smiling and happy. You will not be forgotten. God Bless
I am truly shocked by Bill's passing. He was one of a kind.
I am so grateful to have known and loved someone as truly special as Bill. I have fond memories working together, as well as staying friends long after. I will always hear his voice in my head when I think of him. I am so sorry for his tough health, and I wish we could have held onto him just a little longer. ♥️
Bill you have always made everyone laugh and smile since we were kids. You were so much fun to be around. I loved running into you over the years, it always made my day. You will be missed my friend. The world was a better place because of you!! Rest now, you deserve it.
I'm so sorry to hear of Bill's passing. Bill's smile was contagious. Just having a moment to talk with him always left such a positive impression. He was friendly to everyone and made each person he interacted with feel like a friend. Sending prayers for his family. He will be missed.
You left an impression on many over the years. You made us laugh regularly at Sunset View. Hugs to your family.
You will be the brightest star my friend! You were always a joy to talk to, and I think anyone who ever met you would walk away as your friend. Heaven gained the most beautiful soul. Rest in peace my friend.
A man of Bill's caliber is hard to find these days. Love ya brother
Put a smile on my face every time I ran into you ❤️ You'll be missed by many
RIP Brother!
GBNF
Ride in paradise my friend.
There are very few people that leave a positive impact on the hearts of all they come in contact with, you my friend are one of them. Fly on Billy, Clay & Blondy
My God man. You were one of the "good ones". Everyone who knew you loved you. Me included. You will always be in my thoughts. And will be eternity missed. The world is now a lesser place without you.
May your Harley run perfect and the rides are glorious you will be missed your positive attitude made every adventure awesome. r.i.p
Rest In Peace Bill
I wish we had all taken more opportunities to tell you how loved you were. Life is so short and I'm glad you were part of it.
It is hard to believe that your beloved Bill has gone to the heavens & stars, the sun & moon. I am deeply sorry & sadden by your loss of your son, brother & dad. Bill was a very kind, unique, bright, talented, curious loving man. He put a bright loving mark in my heart early on. You raised a beautiful man, a dad, & a friend to so many. Bill will surely be missed from these lands as it is not often one meets such a person. Love & blessings.