FIND AN OBITUARY
Service information is posted on our website only with approval from the family.
If you are seeking information not listed below, please contact us.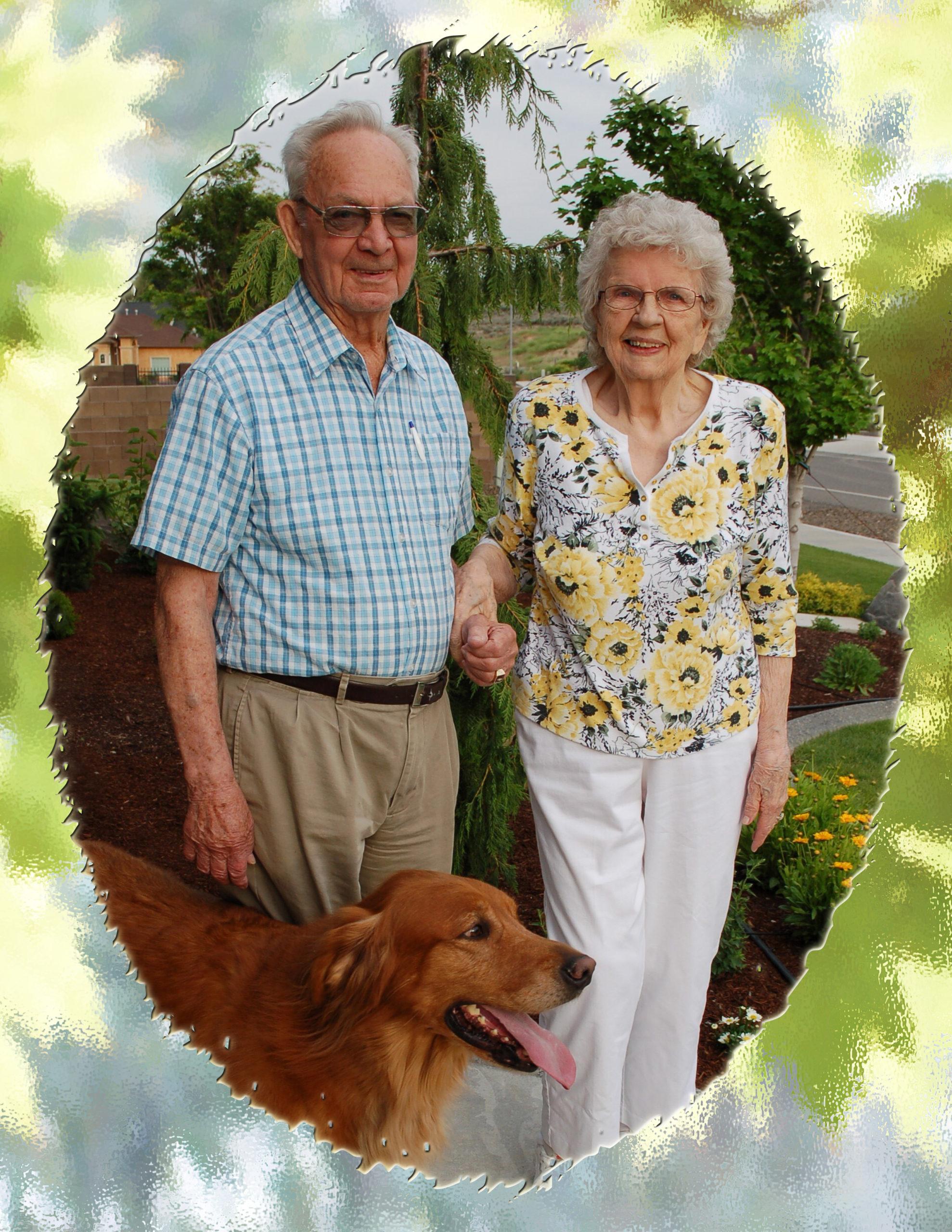 Edward Burnet
07/30/1924 — 11/04/2022
From Richland, WA
Edward Burnet
Edward G Burnet Sr
On 4 November 2022 at the age of 98, Edward G Burnet Sr made his final landing.  He quietly passed away at home surrounded by his children.  Ed was born on 30 July 1924 to Edward F Burnet and Jennie S Burnet (Ramey) in Mountain Home, Idaho.  Ed was always particularly proud of his Idaho heritage. He was raised in mining towns such as Atlanta ID and Nyssa OR during the Great Depression.  He was very fond of Atlanta, returning many times with family members to share the area's history and enjoy a good soak in the hot springs.
Ed had multiple talents and interests but one theme throughout his life was aviation.  Ed's interest was fostered by his uncle, AA Bennett who was a noted pioneer aviator in the frontier territory of Alaska.  Ed learned to fly airplanes and soloed in 1939.  Ed always kept his pilot log books, going back to the initial solo, and accumulated thousands of hours of safe flying time.  During World War II, Ed was in the Army Air Corp, flying B-24's stateside.  As the bombers came off the production line in Michigan, he would inspect them and then ferry the plane to its next destination.  As the war ended, Ed was in Long Beach CA and given leave.  He hopped on his 1935 Harley Davidson motorcycle, rode to Prosser WA to visit family, then on to the East Coast.  Ed then sold the motorcycle to buy a wedding ring for his future bride, Harriet Elaine Korsvik.
Ed and Harriet married on 27 October 1945.  Ed attended the Perry Technical Institute, studying aviation mechanics. The couple and small family moved to Richland WA in 1950 and Ed began work at the Hanford Project as a nuclear operator.  The family grew to five kids and Ed affectionately called them his 'house apes'.  The family has a multitude of fond memories of Ed taking them camping, fishing, snorkeling, scuba diving, clam digging and flying their Piper Clipper airplane for the kid's enjoyment.
Ed was community minded.  He was a volunteer deputy and scuba diver for the Richland Police. He was Commander of the Civil Air Patrol based in Richland at the 'old' airfield.  Some of Ed's aviation exploits were noted in the local newspaper such as when he observed an automobile wreck on the highway, west of town.  Ed landed his plane on the road, picked up the injured driver and quickly flew him to the Richland airport to a waiting ambulance. Ed also had poignant memories of search and rescue missions with the Civil Air Patrol.  Ed started and co-owned the famed Richland Flying Service which offered numerous aviation-related services.  Ed was the first civilian pilot to land at the Richland airport in 1961.  On the 60th anniversary of this event in 2021, the Port of Benton honored Ed by naming the control tower for him.
In the early 1980's, Ed relocated to Spirit Lake ID.  He and Harriet designed and built a beautiful log home in the woods.  Both worked, with Ed continuing employment in aviation and fine carpentry.  The Spirit Lake home was the site of many family gatherings – several reunions, a wedding, and many weekend getaways.  All have fond memories of gathering around the large firepit.
In 2005, Ed and Harriet relocated again, returning to Richland to be closer to family.  A grand caravan of trucks, trailers and other family vehicles relocated them from North Idaho.  Ed was fully retired by then but continued his passion for fine woodworking, immediately setting up a shop in his garage.  Ed's interests in aviation, motorcycling, mining, genealogy, Atlanta, scuba diving and camping are fondly remembered by all.  He was a good storyteller, recounting his and family history and was very proud of a 600-page memoire he authored.
Ed was an animal lover, wild and domesticated, and his most favorite pets were their Golden Retrievers he and Harriet had throughout the years.  For their home in Idaho, Ed built a log cabin doghouse out of logs from his property.  Ed and Harriet enjoyed watching all the wildlife, big, small and feathered, at their home in Idaho and Richland.
Ed felt most at home flying.  He observed cloud formations and commented if they had the perfect lift for glider flying.  If he heard a twin engine airplane flying high overhead, he could tell you if the engines weren't synced.  He was an FAA inspector into his early 90's and always enjoyed reminiscing with pilots at the airport.
Ed is survived by children Janice (Tom) Atkinson, Patty (Butch) Hall, Cathy (Rick) Poynor, Barbara (Errol) Story, and Eddie Burnet; as-well-as, numerous grandchildren, great-grandchildren, and great-great-grandchildren.  Ed was preceded in death by his parents Edward and Jennie Burnet, wife Harriet Burnet (Korsvik) and brother Duane Burnet.
A graveside inurnment with military honors and a celebration of life will be held on a future date in the spring.
In lieu of flowers, we encourage you to give to your favorite charity or no-kill animal shelter and tell them Ed sent you.
CAVU Ed. Your "On It".
We are so sorry for your loss. Uncle Ed is with Aunt Harriet forever. He lived a long, adventurous life that was filled with love of his family and his passion for flying. Our thoughts are with you all.
One of my favorite memories of Ed was him, in his mid-80's climbing down the side of a near-cliff in Atlanta Idaho with three of his sons-in-laws to soak in the hot springs. "It felt damn good".
Our condolences to the Burnet family. We are grateful for the many years we had Ed & Harriet as our neighbors. We couldn't ask for better friends & neighbors. Thanks Ed for the memories.
My deepest sympathy to the entire Burnet family..Keep those precious memories close to your heart.
My heart goes out to all your family! Your dad was a wonderful and kind person. Remember he is without pain and with your mother again.
So many memories if my dad and Eddie and their flying stories. He was a dedicated pilot and friend to many
So sorry for your loss, Ed.
I didn't know you or your dad…but I was a little kid living on Chestnut '67-'68 and remember your family living on Cedar.
Eddie (and family!) condolences to you.! You'd be surprised just how many times your dads name comes up in conversation. Mr.Burnet sir…. CAVU.
Such a full life and great memories! Fly high Gramps, we will miss you!
Dad, you left me with so many great memories! I was so blessed; I will miss you so dearly!! Your daughter Barbara.
Dad, I'll miss you dearly, you'll always be in my memories. I love you. Your son , Eddie jr
Dad, your place in my heart will never be replaced or taken by anyone else. You will always be the best thing that ever happened to me. I miss you, dad. Take Rex for a walk, and give MOM a special Hug.
Your #2 Daughter.
Patty
My sincerest sympathies to Ed's family.
Daddy, I miss you so much!!!