FIND AN OBITUARY
Service information is posted on our website only with approval from the family.
If you are seeking information not listed below, please contact us.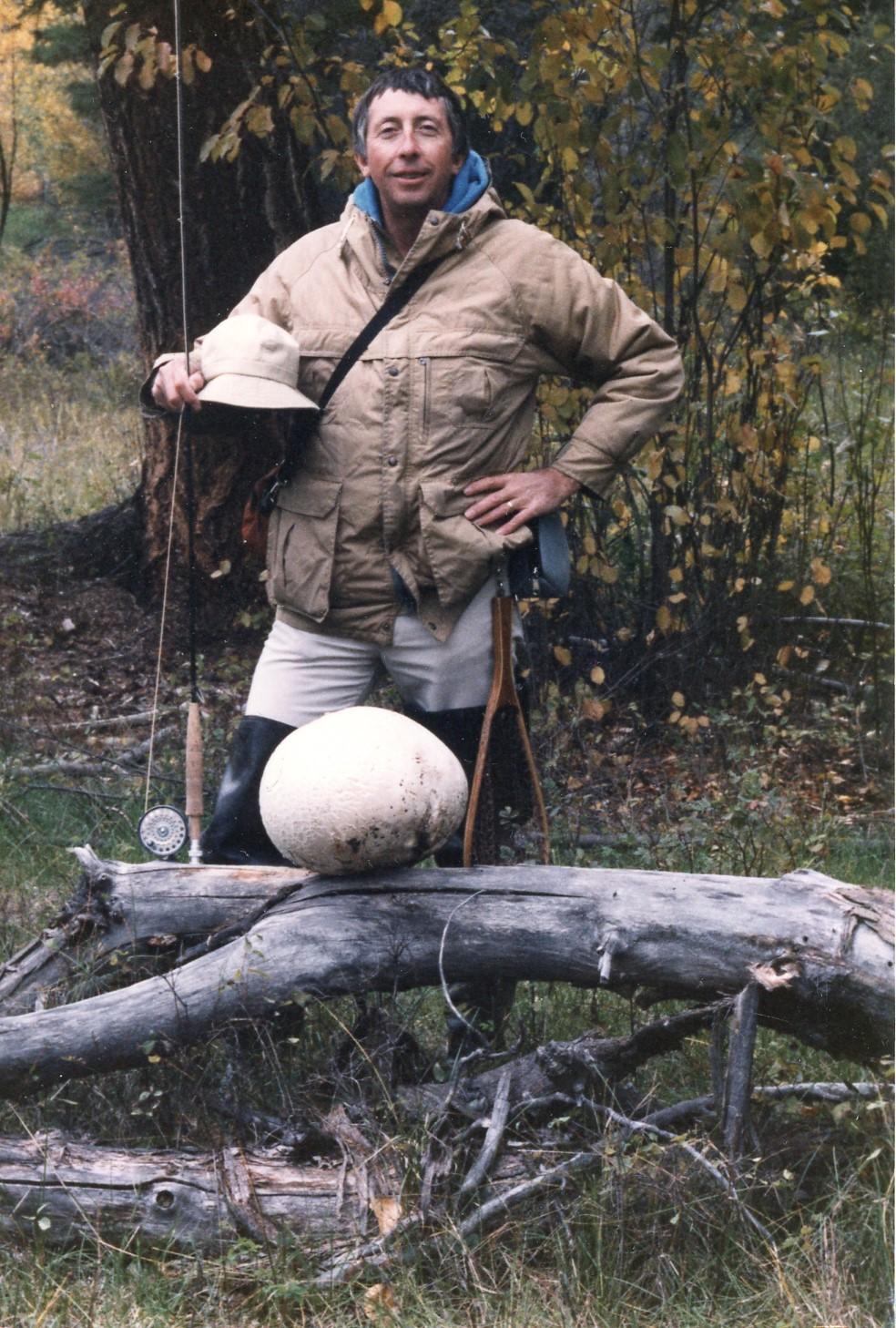 Robert David "Bob" Van Houten
12/03/1935 — 11/11/2022
From Richland, WA
Robert David "Bob" Van Houten
Robert David "Bob" Van Houten passed away in the quiet pre-dawn hours on November 11, 2022.   He was 86 years old.  A man of integrity Bob had few regrets.  When his oncologist said, "you have less than three months to live," true to his determined nature Bob replied, "Let's double it and aim for six months."
On December 3, 1935, in the midst of the Great Depression, Bob was born to Richard and LaVelle Van Houten in Union, Oregon.  When he was a little boy Bob rode in the rumble seat of a Model T from Portland to Union, feasted on his grandmother Maggie's chocolate penuche cakes, and lived for a short time in Flora where his father and uncle George had a sawmill. When Bob was twelve years old the gift of a bamboo rod, from Butch Phillips, led to a lifelong love of fly-fishing on Oregon's Catherine Creek and throughout Montana's Yellowstone country.  The following year, Bob's mother re-married. Bob and his siblings, Linda and Jim, moved to Paul Harris' farm on the outskirts of Union.  "When you live on a farm you learn how to work," Bob recalled.  "My job, as a boy, was milking cows and tending sheep."   Bob said with a laugh, "When I was about fifteen I was driving the tractor and belting out a song at the top of my lungs."  Oklahoma, where the wind comes sweepin' down the plain. And the wavin' wheat can sure smell sweet when the wind comes right behind the rain."  When I looked over my shoulder there was a car full of people grinning and laughing."
Bob put himself through college by working a series of summer jobs which included planting trees and hunting porcupines for the U.S.  Forest Service, and on Kodiak Island, AK, he cleaned municipal sewers and stacked canned salmon.   With his newly conferred bachelor of science in mathematics Bob declined a job offer from the CIA in Washington D.C.  He returned to Taft on the Oregon Coast and stocked shelves at Safeway for Ted Richards, his manager and a lifelong friend.  It was Ted who first saw the job opportunity with Boeing Computer Services that launched Bob's career.  He moved to Seattle, WA, and it was there, outside his South Park apartment building, that Bob met the love of his life Norma Gallagher.  He wooed her with his sparkling smile and rides in his powder blue MG convertible.  Bob and Norma were married in August 1965.  It wasn't long before daughter Jeannie and son Jeffrey were born.
Throughout his career, Bob helped aerospace manufacturers and nuclear industries transition from mechanical and analog systems to digital technologies. UNIVAC, a precursor to the Microsoft operating system, hired Bob as part of an international team of computer scientists based in Rome. Bob and Norma spent four of the happiest years of their lives in the Frascati region of Italy. Bob's work took him to England, Spain, Switzerland, and Yugoslavia.  On one memorable vacation Bob and Norma, left the kids at home, and drove down the Amalfi Coast to Sicily in a white, 1962, Fiat Osca Spider.
The Van Houten's returned to Richland, in 1972, where they have lived for fifty years.  Computer Science Corporation (CSC), who at the time had the contract at the Hanford Nuclear Reservation, hired Bob.  He wrote code and programmed fuel pins at the Fast Flux Test Facility.  He loved writing code and was known to work until two or three o'clock in the morning.  Eventually, he reluctantly took on a management position. In 1996 Bob retired.  The following year his grandson, Reed Matheison, was born.  Bob savored his role as grandfather. Together, they took evening walks with an apple, harvested giant pumpkins, spent wintry evenings playing board games, and frosty days sledding.  And they never missed the opportunity to share a slice of cheesecake.
We have learned many valuable lessons from Bob during his 86 years, most notably: Eat a bite of chocolate after every meal, if your zucchini is stacking up like cordwood your children will convince the neighbors to buy them for a dime apiece, life is the golden ticket—never complain, keep it simple and wear the same outfit every day, grow tomato plants by the dozen, trespassing cats who use the garden as a litter box will be sprayed with the garden hose, before re-painting the exterior of your house use seventy-eight tubes of painters caulk to ensure your home is bug proof, when dealing with problematic people "don't get even—get ahead," love your family unreservedly, eating freeze dried food on a fifty-mile hike is "grounds for divorce," read everything that interests you from Greco-Roman history to WWII spy novels, when faced with a global pandemic stay calm and carry on, watch the movie Tremors every year, when given a terminal diagnosis—insulate the underground sprinklers, play Parcheesi to win, and eat homemade buttermilk biscuits smothered in bacon gravy every day.
Bob was a humble man and a gentle soul who lived life on his own terms; self-reliant to his last breath.  With heavy hearts we say goodnight to a cherished husband and beloved father. He will be greatly missed. Our wish for you, Bob, is dolce non fare nient – The sweetness of doing nothing.
Bob was pre-deceased by his father Richard William Van Houten, mother LaVelle Harris (Hogoboom), and sister Linda See.  Left with decades of wonderful memories are Bob's wife of 57 years, Norma Carol (Gallagher) Van Houten of Richland, WA, daughter Jeannie Van Houten-Matheison (James Matheison) of Moscow, ID, son Jeffrey Van Houten of Richland, WA, grandson Reed Matheison, Brother Jim Harris (Chris Harris) of Marsing, ID, and many nieces and nephews.
At Bob's request there will be no funeral service. He will be interred in the Union cemetery where four generations of his pioneering family and many friends are at rest.  Everybody has a Bob story, and we'd love to hear them all.
Although the only time I got to spend talking to Bob and sharing stories were at the NFLCC Regional Shows in Kelso and Portland we developed a common bond of friendship during those many shows. He would come by early during the room trading openings prior to the actual show and was always eager to find out what early Hardy fly boxes and other accoutrements we may have brought with us for the show. Bob was one of the "good guys" always smiling, asking questions, sharing fishing stories, and one of the most honorable men I ever met . I will greatly miss him at future shows. A true gentleman!
Tight Lines Bob may the heavens open their many streams to you.
WE WERE VERY SORRY TO JUST FIND OUT THAT BOB PASSED AWAY. I FREQUENTLY RAN INTO BOB AT FRED MEYER GROCERY STORE AND HE ALWAYS STOPPED TO SAY HELLO AND ASK ABOUT RON IF HE WASN'T WITH ME AND TO BE SURE AND TELL HIM HELLO. IT WAS ALWAYS A PLEASURE SEEING HIM AND VISITING WITH HIM. REST IN PEACE BOB AND OUR PRAYERS AND THOUGHTS GO OUT TO NORMA HIS WIFE AND HIS CHILDREN AND GRANDCHILDREN AND ALL OF HIS MANY FRIENDS WHO KNEW AND LOVED HIM.
RON AND EILEEN GEIGER
I was very sad to see that Bob passed as I was looking forward to running into him at the Richland Library and having a long overdue gab session. It was fun and such an education to talk to Bob about the places he'd been and the adventures he'd had. We both loved talking about the forests and mountain areas where we'd hiked and our Oregon roots.
I appreciated him for being humble, down to earth and possessing of a very fine sense of humor. When I came to Boeing Computer Services in 1983 he was one of four managers in the department. So I knew him early on and was fortunate to have him as my direct manager years later. He reviewed and advised me and a co-worker on a software configuration management plan we authored. In that direct interaction I became more fully aware of his capabilities, insight and expertise. He asked important questions we had not addressed and helped create a better and more robust plan.
I so wish there were more people like him in the world. He talked so lovingly of you Norma, and his family as well. He had an easy heartfelt way of sharing his stories and thoughts, never pushing but always supportive. He had a rare presence in that he was serious, capable and work-focused but also readily amused. I often felt he was ready to have a good chuckle and because he had a very broad sense of humor, he would find his way to a positive and light hearted perspective.
Again my condolences to the family. I hope that you will be comforted by many happy memories.
P.S. Is that a large fungus in the main photo? Wow!
I only had the pleasure of working with Bob for a little over a year. We were both managers in Boeing Computer Services – Richland right before he retired. I loved our light-hearted encounters – including some afterward in Fred Meyer – and can well relate to the comments about his smile. The world lost a "good one" all too soon.
I was Bob and Norma's neighbor for several years and used to babysit their children, Jeannie and Jeffrey. Kind, thoughtful, helpful and just down to earth good people. Although I have not seen the Van Houten's for many, many years, as a child, I remember Mr. Van Houten always having positive words of wisdom. I know he will be deeply missed by his family, neighbors and friends. Norma, Jeannie and Jeffrey, I am sorry for your loss. Prayers and God's blessings to you.
I was surpeised and saddened to hear of Bob's passing. I always enjoyed getting to know him at work over many years and frequently seeing him at Freds and, of course, our post-retirremment coffee gatherings. He was a good person and always enjoyable company. We miss him.
Norma and family, we were deeply saddened to hear of Bob's passing. He was truly a kind and gentle man. He grew the best tomatoes and was always willing to share his harvest. Fall is my favorite time of year and fresh tomato sandwiches are what makes Fall so special. I was always excited when I would see Bob crossing the street with a bag of fresh tomatoes in his hand. He will be definitely missed in the neighborhood. We wish you peace and comfort that God can provide. May you find comfort in the many memories the family has created over the years. God bless you all.
So sorry to hear of your loss, Norma. If there is anything at all that I can do to help you, please just call me. I think of you often.
Hi everyone,
We are honoring Dad's wishes and there will not be a service. It would be a comfort to hear your recollections about dad's life. 💗 Jeannie