FIND AN OBITUARY
Service information is posted on our website only with approval from the family.
If you are seeking information not listed below, please contact us.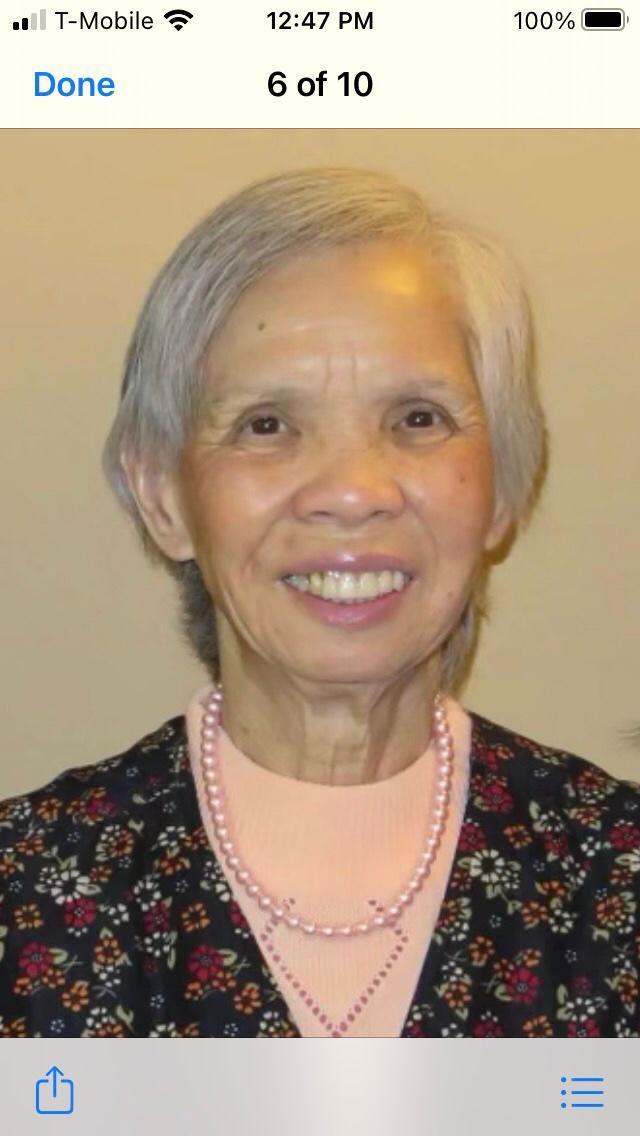 Yuet Cheung Chau
08/16/1934 — 12/15/2022
New to Livestream? Watch the tutorial.
Celebration of Life
Starts:
Sat, January 7, 2023, 1:30 pm
Ends:
Sat, January 7, 2023, 2:30 pm
Graveside Service
Starts:
Sat, January 7, 2023, 3:00 pm
Ends:
Sat, January 7, 2023, 3:00 pm
Location:
Sunset Gardens
915 Bypass Highway, Richland, WA 99352

Yuet Cheung Chau
On behalf of my brothers and families, thank you for attending our mother's memorial service.
Mom was born on August 16, 1934 in China.  She had many brothers and sisters.  Her father had left China to work on the railroads in the US early in her life.  She grew up during political difficulties in China and consequently, did not receive any formal education.  I'm not sure of her childhood history, but my father had told me that when his parents were looking for a wife for him, mom was chosen because she looked 'strong as an ox and probably can have many children (she did have 5 boys).  After being married in 1951, my older brother was born and I followed 4 years later.  My parents decided to escape from mainland China for Hong Kong.  We came out in the middle of the night in a small boat, trying to avoid detection by the Communist river patrols. I guess I became very close to my mother because on that trip, being about 6 months old, I did not know when the proper time was to cry or eat.  Afraid of being discovered, the other passengers wanted to throw me overboard.  I'm not sure how, but my mom convinced them not to.  We lived in Hong Kong for about 9 years, and then with my grandfather's help, immigrated to the US in 1966.  Dad purchased a laundromat to work, and mom took to being a helper and caring for all 5 boys.  Dad and the boys interacted with customers and the world in English.  Mom stuck with the ToyShan dialect and never did learn much English nor Mandarin.
Yet despite not having any formal education and the language difficulties, I would say that mom was an extremely intelligent and sharp woman.  She was just about the most observant person that I know of.   Though she may appear to be just 'sitting there', her eyes were constantly moving to assess the situation.  She had the most amazing memory.  One time, mom went grocery shopping with my wife.  Julie did not recall where a certain item was.  Mom immediately took her in a straight line to the item without any hesitation.  Many times I would express some confusion about things in the house, and she would quickly correct me.  Mom was also fearless.  After my father passed away, she had no hesitation with taking the city bus around town.  I had asked her once 'what if you get lost'?  She simply replied that she would just stay on the bus until it came back to where she got on.  She was without fear to ask a stranger to use their cellphone to call me if necessary, which she did once after getting lost.  She also had no difficulties with pushing buttons on electronic devices like on her TV or microwave, then telling me that it did not work.  Providing care for her was not easy as she was constantly getting herself  in trouble, but she would simply flash her big smile that kind of asked 'do you want to scold me'?
My family and I had relocated to Richland for work in 1993.  My father and mother arrived shortly afterward.  It was a big change for them as they were no longer in big cities like Hong Kong, New York or Philadelphia.    Dad had complained initially about the drivers in Richland.  He told me how 4 cars would be at the stop signs and no one would move.  I told him that people here were kind and tended to let each other go first.  Otherwise, it was a great time for them as they were now retired.  Dad by nature was a guy that enjoyed working with his hands.  After staying with us for a few years, he bought a small home close to where my daughter was going to middle school.  He was constantly busy with doing things like building a carport, replacing windows and changing carpets. When he passed away, I found like 20 screwdrivers and other tools.  Of course, mom was right there as his helper in all his projects.  Of most importance, Mom and dad attended church with us.  After several years of watching and listening, Dad became a believer in 1995.  Mom and Dad were baptised together.  Dad went from watching Chinese TV late into the night, to reading the Bible instead.  They met and enjoyed deep friendships with many other senior Christians. Mom was especially happy and looked forward to all the great trips that the senior group would go on, like the Canadian Rocky Mtn, Grand Canyon and Mojave Desert, Yellowstone National Park, and many others places.  I think she had seen more of the US parks than I've!  Therefore, I would like to thank the coordinators of the Evergreen Group from Tri-Cities Chinese Alliance Church for their hard work.  When mom was at the assistive living the last 3 years, many of the church friends were faithful to come and visit and gave her companionship.
And mom loved to eat.  Her appetite was totally amazing.  Many of her peers envied her because she could eat without any concerns.  Before my father's passing, he expressed his love and concern for mom.  He wanted me to take good care of mom, and that I needed to see if she had cancer or not.  I asked him why.  He replied that she was eating so well, but not gaining weight. After all of her doctors' appointments, lab tests, and x-rays, mom was quite healthy.  She did not have cancer, nor was she diabetic or hypertensive.  She took no medications.  Her secret was walking.  After the death of my father, mom's daily routine was waking up in the morning with the sun.  Have breakfast like oatmeal and/or bread.  By 10 am, she would start walking.  She would walk along the Columbia River for 2 miles up to the Senior Community Center.  Then, she would have lunch with other seniors, before walking back home by the same route.  After a short rest, she would then proceed to walk around our community till dinner time.  Through these walks, she knew exactly who lived where, and what was unique about all her neighbors.  Of note, when we first moved to the new place by the river, one of my doctor friends that lived there across the street gave me a call.  He asked me if there was something not right about my mother.  I asked him what was happening.  He told me that my mother was walking back and forth in the parking lot.  I told him that was my mom's way of exercise as well as knowing her environment.  Of course, her back and forth in the parking lot a couple of years ago had extended to about a 2 miles radius.
Mom's other joy was being with her grandchildren of which she had 6.  She even got to see and interact with my grandson, her great grandson.  Mom was often the designated babysitter for the grandkids.  As you can see, they are all grown up and doing well physically.  Mom was a good cook, and took good care of them, as well as all of us brothers.  Despite not knowing English, she would speak her Chinese dialect to all of us without any concern or care as to whether we understood or not.  So, despite her limitations in life, mom's life was not limited.  She lived for a good 88 years.  I was with her to the end.  There was no need for any pain medications.  She was comfortable. There was no desperation or struggle to breathe.  She left comfortably in the middle of the night to be with Dad on December 15 at 12:30 am.
Before I finish, I would like to thank the many Christian brothers and sisters here in Richland at the Tri-Cities Chinese Alliance Church (too many for me to name everyone), who have accepted mom (and dad) for who they were.  Their days here in Richland were full of joy, fellowship, trips, and food, lots of it.  While it had been difficult for my brothers to go from the east coast to our west coast to visit, many of these friends had been visiting mom and providing Chinese food, and just being someone there next to her for fellowship.  In particular, I would like to express my thanks to Albert and Zhou Hui Chiang.  There were times when I was out of town and the assistive facility had called asking for additional diapers and wipes.  I had to immediately order items from Amazon and have it shipped to their home so they could bring it to her as soon as possible.  Their daughter Jana had also been baking Chinese cakes for mom to eat frequently.
Finally, I would like to express my sincere thanks to my wife, Julie, for her tireless help in taking care of mom, as well as for dad.  While I was busy working in the hospital, Julie would take dad to all his doctors' appointments, as well as to his dialysis treatments 3X a week for the last 18 months of his life.  After the passing of my dad, she then had to help with taking care of mom.  Julie had been busy with registering mom for her identification, health insurance cards, and bus cards, paying for her senior meals, and doing grocery and general shopping needs.  She even took several trips to LA and NY with mom so she can see relatives and celebrate Chinese New Year and her birthdays.  So Julie, I thank God for being the great helper by my side in the care of my parents.
Mom enjoyed life despite the passing of dad about 13 years ago.  She had friends and was content living in her own place.  We will all miss mom with her passing.  Probably the thing that we will miss the most is her big friendly smile.  Keep smiling mom.