FIND AN OBITUARY
Service information is posted on our website only with approval from the family.
If you are seeking information not listed below, please contact us.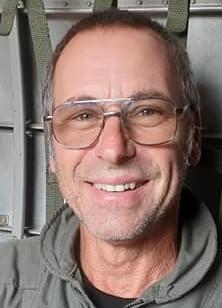 David G Kraemer
06/30/1961 — 01/17/2023
From Kennewick, WA | Born in Richland, WA
Watch Service
New to Livestream? Watch the tutorial.
Celebration of Life
Starts:
Sun, January 29, 2023, 11:00 am
Ends:
Sun, January 29, 2023, 12:00 pm
Reception
Starts:
Sun, January 29, 2023, 12:00 pm
Ends:
Sun, January 29, 2023, 2:00 pm
David G Kraemer
David George Kraemer, 61, passed away suddenly on January 17, 2023, in Kennewick.
David was born June 30, 1961, in the old Kadlec hospital, to George and Marjorie Kraemer and welcomed by his big sister Lauri. Growing up, Dave enjoyed outdoor activities, motorcycles, and his beloved dog, Caesar. He attended Richland schools (Jason Lee, Chief Jo) and graduated from Columbia High School in 1980. Dave discovered welding at the age of 12, and earned an AA Welding Science degree from Columbia Basin College in 1982, determined to be the best welder/pipefitter ever!
David married his wife Laurie Lynn Willis November 9, 1985, and they made their home in Kennewick. Their sons, Lucas and Tyler, were both born in Richland (new Kadlec). When the boys grew up, moved away, but returned to live in Richland, Dave was thrilled. His boys had come home and would always be nearby. He could not be happier.
Dave loved his cats, believed in Big Foot, cheered for the Seahawks, but was best known for Harley Davidsons and Power wagons – collecting, tinkering, wheeling and dealing. He was a true handyman: he could build a bookshelf, lay tile, or fix a motor. His boys knew they only had to call Dad to get something installed, painted, or repaired. His friends called him Super Dave.
Dave is a proud Journeyman Pipefitter, out of the Local 598 Plumbers and Pipefitters. He started his career in December 1996, first as an apprentice with Thompson Mechanical (now Intermech), turning out and staying through 2019 before going to work for Apollo Mechanical Contractors. For over 26 years, Dave lived his dream, surrounded by his Union brothers, doing what he did best!
David is survived by his family: Laurie; Lucas/Heather (nee Marshall) and daughter, Quinn; Tyler/Denise Foust (fiancé) and family (Aric, Brooke, Devon, Cahre); dear mother Marj; sister/brother-in-law Lauri/Pete Serafin; and niece Amelia. He is also survived by numerous Kraemer cousins; Willis (Mills) and Marshall family members; friends who were more like family; and the many friends he made growing up and working in the Tri-Cities. He loved you all, but his greatest love was his granddaughter Quinn. They had a special bond. PopPop adored his baby girl, spending hours, wrapped around her finger, just smiling.
Dave was preceded in death by his father George Robert Kraemer (September 2022). Dave wrote on FB,
"Rest in peace and will see you down the road." Now, the Kraemer men are together again, probably planning their next deer or elk hunt.
Services will be held Sunday, January 29, at 11:00 AM at Einan's Events at Sunset on the Bypass, Richland. Come celebrate Dave's life and share a story or two. In lieu of flowers, donations can be made in David's name to the Local 598 Scholarship fund.
Margie & Family, So sorry to hear about David. My thoughts & prayers r with all of you. Love, Linda Field
Dave was always fun to be around when Shayn and I would visit Luke at his house. He showed us his work garage in the back yard at their house on Nelson St. He'd let Luke and us shred on the Gibson guitars. I only knew he was a pipe fitter later on after meeting Luke but never knew he it was his dream but did know he was a master mind at welding.
He'll always be in my mind throughout the rest of time, I love him and love Luke, Tyler and Laurie like a second family.
Rest in Peace Super Dave!
Dave was my friend and my brother. I loved that man. I worked with Super Dave for many years. He was without a doubt one of a kind. He was a man that would getter done. Oh the stories I could tell. Words alone cannot describe the loss. I've always believed that men don't cry. Well, today my tears are real. Ill miss you Dave. See ya shortly brother. "Twister"
Dave "Super Dave" was a very good friend to me since we were 15. We graduated in the class of 1980 which had the reputation of being one of the wildest classes to ever graduate! Go Bombers Class of 80! Dave and I maintained a close friendship through the years and Facebook helped us share our lives. Back our teen years, my family had a top alcohol funny car which on days were were going to start the engine, I would invite him over to watch. It was always fun as he loved anything with a motor. Dave was a skilled welder and loved being a pipefitter. It was fun to see him so excited over finding a new power wagon to work on or buy! He always spoke of his love for his wife and children and his granddaughter. I will miss him. I am so sad to loose such a great friend way to soon. I know he will watch over us. Heaven must have needed a good one. Here's to you Dave! Love and miss you….Sheila
Great man and gone to soon. condolences to his family and many friends.
Great man and gone to soon. Condolences to his family and his many friends.
What a beautiful tribute to a strong family man and true friend. My heart and prayers are with you Laurie, with your boys, and with the family. Peace and Love.
Blessed are those who mourn, for they shall be comforted. – Matthew 5:4
Laurie and family – Condolences on your loss. May your many great memories and the love of family and friends comfort you at this time.
Prayers to the Kraemer family. Brother, husband, father, son, friend, he influenced and helped create memories for many. We pray the stories shared and remembered, plus the photos, will bring smiles and laughter to you as he did.
David, I will miss our talks and discussions, but most of all I will miss your friendship. I hope there are Dodge trucks in heaven and you are behind the wheel of one now. Rest in peace.
We are so sorry for your loss. We hope that you can take comfort in the love around you and carry the happy memories along with the grief. We're sending a big hug from Vienna.
Cousin David,
We had so much fun together, when our father's families made the trip to visit each other. I loved visiting your family out in Washington. The celebration of George and Marion's 50th was so memorable. It was so good to see all my Aunts and Uncles, grandparents, and cousins then and any other time that we were fortunate enough to meet.
2012 was the last time we met, in Washington. We loved seeing you, your wife, sons and their girlfriends, at that time. Yes, drinking your dad's wine, talking and just enjoying life. We will miss you, but we have so many good memories.
Bill Kraemer
Bill
Much love Dave. Rest in Peace. Condolences and love for the family.