FIND AN OBITUARY
Service information is posted on our website only with approval from the family.
If you are seeking information not listed below, please contact us.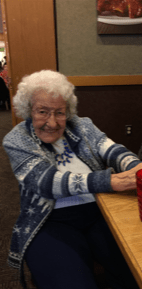 Jannett (Jan) E Dykeman
01/21/1925 — 01/15/2023
From Richland, WA | Born in Hastings, NE
Public Viewing for Jannett
Starts:
Mon, January 23, 2023, 3:00 pm
Ends:
Mon, January 23, 2023, 7:00 pm
Location:
Einan's At Sunset Funeral Home
915 Bypass Highway Bldg. H Richland, WA 99352
Public Viewing for Jannett
Starts:
Tue, January 24, 2023, 9:00 am
Ends:
Tue, January 24, 2023, 1:00 pm
Location:
Einan's At Sunset Funeral Home
915 Bypass Highway Bldg. H Richland, WA 99352
Graveside Interment for Jannett
Starts:
Tue, January 24, 2023, 1:00 pm
Location:
Sunset Gardens
915 Bypass Highway, Richland, WA 99352

Celebration of Life for Jannett
Starts:
Tue, January 24, 2023, 2:00 pm
Location:
Redeemer Lutheran
520 Thayer Dr. Richland ,WA 99352
Jannett (Jan) E Dykeman
Jannett (Jan) E Dykeman, 97, passed peacefully on January 15, 2023, at Kadlec Medical Center in Richland, surrounded by her loving family. She was born on January 21, 1925 in Hastings, NE, to Reinhard and Rebecca Krueger.
Jan graduated from Kenesaw (Neb) High School in 1942. This is where she meet her high school sweetheart and love of her life, Clifford. They were married on December 3, 1943 in Kenesaw,
After Cliff's discharge from the Army and various jobs, they moved to Washington State in August of 1947 to find work at Hanford. On March 2, 1948 their daughter was born, Pamela, followed by their son, Randy, born April 6, 1950.
Jan's employment at Hanford started in August, 1954 consisted of accounting and financial positions. She worked for several Government companies (General Electric, Archo/Rockwell). After 32 years of service, Jan retired on February 28, 1986.
Love and devotion, to her family and serving the Lord through prayer and church, were just a few of the many things she valued. She served on many committees with the Veterans of Foreign Wars, (past Post President and Treasurer), Lydia Guild at church (Redeemer Lutheran).
Having family gatherings was a delight for her. Her cooking and baking was in high demand by all family members. Goulash, ham and beans, "head cheese", fresh coconut cakes, pineapple upside cakes, breakfast egg sandwiches, homemade vanilla ice cream (with grape nuts) and her ever popular creative birthday cakes for each of the grandkids (every year).
After her retirement, Jan and Cliff settled into farm and family life, gardening, as well as dedication to Veterans and serving the Lord.
Jan is survived by her daughter, Pamela Dykeman (West Richland); son, Randy (Kim) Dykeman (Richland); Grandchildren, Jill Dixson (West Richland), Danielle Dixson (Richland), Melissa (Kevin) Nelson (Pasco), Bryan (Erica) Dykeman (Pasco); Great-grandchildren, Cody Dixson (Kayla), Kaitlynn Yale, Austin Claridge, Keaton Dixson, Justin Nelson, Faith Dixson, Hailey Nelson, Hope Malvich; Great-great-grandchild, Madden Yale. Nephew, Gary (Bonnie) Scofield (Richland) and numerous nieces and nephews.
Jan was preceded in death by husband Clifford, her parents Reinhard and Rebecca Krueger; Sister, Selma (Cliff) Scofield; brother William (Patty) Krueger; Niece, Marlys Kinne.
The family knows you will be guiding and watching over us until we meet in heaven. Save a root beer float for us! You will always be in our hearts…. love and miss you forever and always.
Visitation will be on Monday, January 23, 2023 from 3:00pm – 7:00pm and Tuesday, January 24, 2023 from 9:00am – 1:00pm, Einan's at Sunset, 915 By Pass Hwy/Highway 240, Richland, WA.
Graveside will take place on Tuesday, January 24, 2023 at 1:00pm at Sunset Gardens, By Pass Hwy/Highway 240, Richland, WA, followed by a church service at Redeemer Lutheran Church, 520 Thayer Dr, Richland, WA.
Jan was a good friend, co-worker, and neighbor for many years during our time at Hanford. We carpooled together to the site and worked in the same office. We played duplicate bridge together and always had good times. Thinking of you and your family and know you will be greatly missed. Love to all.
So sorry for your loss. She will be missed.
Sorry for your loss. Jan was a faithful VFW Auxilliary 7952 member since 1971 and LIFE member for 16 yrs (51 years total). She was an excellent mentor to many new members showing us many important guidelines when it came to attending meetings, becoming officers, etc. Once her health issues surfaced, she had to let go of her Auxiliary obligations (Post, District 17, and Dept of WA) and we missed her guidance terribly. She and Cliff are dancing together again. We always enjoyed watching them dance at the Post Home.
Jan is wonderful and is a big part of our family story. I will always have fond memories of my godmother. My thoughts and prayers are with Pam and Randy and all of Jan's family.
Prayers for the family during this difficult time. Sending our love (and hugs) from Ohio!
Randy and family,
I am so sorry for your loss. My God Bless all of you during this time.
I am so Thankful for you Aunt Jan you made all of us feel so special You will be Truly missed but we have the hope in Jesus Christ that we will see one another again I am so blessed beyond words that My cousins Pam and Randy and there special family are my blood forever be united Love to all Linda
To my sweet, wonderful Aunt Jan…you were always my favorite. So enjoyed all the time we got to spend together & looking forward to being together in ETERNITY with our LORD & SAVIOR. I will miss you precious lady. WELL DONE GOOD & FAITHFUL SERVANT. I 💕💕 YOU. Jude
You were always a inspiration to me such a beautiful lady till we meet again your jonny. You have always been so kind to me. I will miss our talks. You have been a huge blessing in my life. Love you aunt Jan , Terri
We love you Jan. Sweet beautiful kind women of God. Well done good and faithful servant.
My favorite Aunt so much love for you. I always looked forward to you all visiting on Hollidays. Love you Nephew Jerry Dykeman.
I've sat here and thought of the millions of things I could've written down, but the words don't come out right. I love you and miss you, but know you are in a better place. Until we meet again……
Love Bubber,
Sending kind thoughts to the family. I fondly remember Cliff and Jan being friends to my grandparents (Harry and Pearl Rose). I'm so sorry
Sorry for your loss. Sending prayers of healing during this difficult time and hugs from Ohio.
I love and miss you so much Grandma. You are with me always.
Love
~ Missi