FIND AN OBITUARY
Service information is posted on our website only with approval from the family.
If you are seeking information not listed below, please contact us.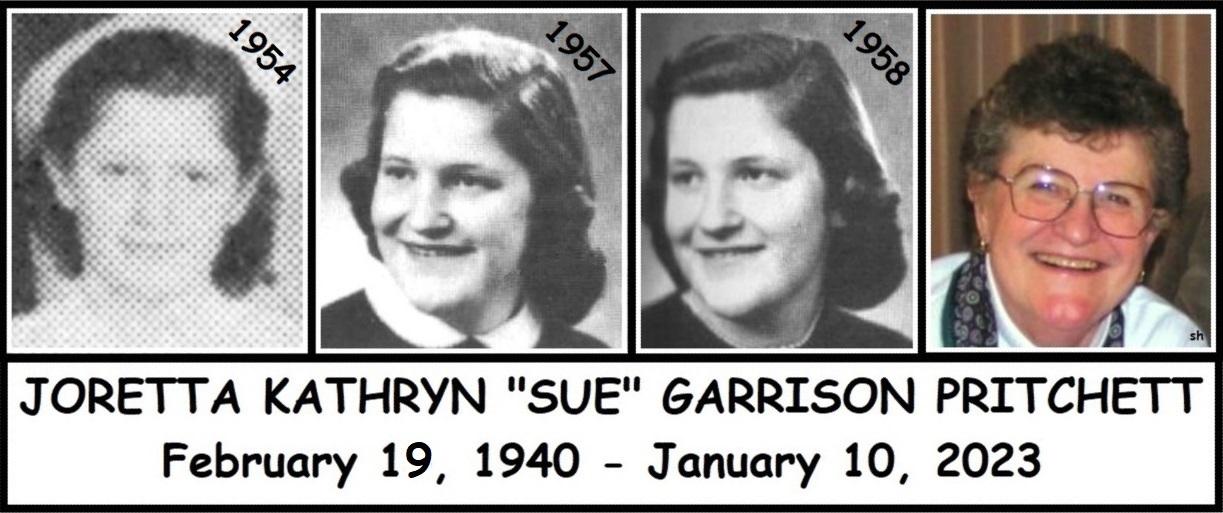 Joretta "Sue" Pritchett
02/19/1940 — 01/10/2023
Born in Wadestown, WV
Celebration of Life
Starts:
Fri, April 14, 2023, 1:00 pm
Joretta "Sue" Pritchett
Pritchett, age 82, of Richland, died of brain cancer on January 10, 2023. She was born February 19, 1940, in Wadestown, West Virginia, to Robert M. and Lillian Garrison. A 1958 Richland High School graduate, she married her former teacher E.L. "Bob" Pritchett in 1970.
Sue worked at Hanford for 28 years, retiring in 1995 as a technical writer/editor. She was a member of P.E.O. Chapter FX in Richland. Her passion after retirement was working with the Richland Seniors Association on two Bond Campaigns, as well as the Project Team to build the Richland Community Center. She continued in her later years to help her older friends with their confusing paperwork.
Survivors include her daughter Molly Parkhurst (and husband Brian) in Bothell, WA.; daughter Nancy (Pritchett) Stajduhar in Richland; son Blaine Pritchett (and wife Dale) in Elkhorn, NE. She also leaves sisters Patty Foster of West Richland; Nancy "Sally" Foster of Des Mones, WA; Mary Jo Miller in Ohio; five grandchildren (Daniel, Aaron, Larissa, Ben, and Charlie), seven greats, and several nieces and nephews. Her husband and parents preceded her in death.
Memorials may be made to the Richland Seniors Assoc. building fund for the Richland Community Center, and the Kadlec Tri-Cities Cancer Center.
A celebration of life will be held on Friday, April 14, 2023, from 1pm-3pm, at Einan's Funeral Home in Richland.
My mother, Mary "Eaton"- Mulroy and Susie were longtime friends since Middle school. They continued their strong friendship up until Susie's illness. They would get together for breakfast and lunch dates a couple times a month. My mom always talked about their many stories of growing up together. Now that my mother is battling the onset of Alzheimers, I wanted to send a msg on her behalf: Thank you Susie for your continued friendship and many memories that are held dearly in my heart. You will be missed! Sending our sincere condolences to all the family. The Mulroy's
I have know Susie for many years. I am from Hundred and was very good friends with her family back here. In fact I buried her mother, Aunt Lillian when she died. The last time she was in West Virginia she came to the funeral home with John & Jodie to visit.
I was privileged to get to know Sue through various volunteer opportunities. She was fun, smart and very easy to talk to. I always enjoyed visiting with her. Rest In Peace dear Sue. My sincere condolences to her family.
Was so sorry to hear of the passing if Sue. She was the best Secretary ever! Our prayers and our sympathy to the family and friends of Sue. Rest in peace and God"s comfort to all of you. May God be with you all at this difficult time. Ron and Eileen Geiger