FIND AN OBITUARY
Service information is posted on our website only with approval from the family.
If you are seeking information not listed below, please contact us.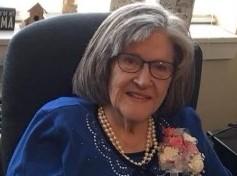 Betty Lou Conner Sansom
01/27/1935 — 02/25/2023
From Vancouver, WA
New to Livestream? Watch the tutorial.
Visitation
Starts:
Fri, March 10, 2023, 6:00 pm
Celebration of Life
Starts:
Sat, March 11, 2023, 10:00 am
Location:
The Church of Jesus Christ of Latter-day Saints -Gage
895 Gage Blvd

Richland, WA

Betty Lou Conner Sansom
Betty Lou Conner Sansom was born in Hutchinson, Kansas, on January 27, 1935, to Marion Conner and Goldie Triplett Conner.  Because of the Depression, the family moved between Missouri and Tennessee many times before settling in Richland, Washington in 1948.  Betty graduated from Columbia High School (now Richland High School) in 1952.  After high school, she worked for a year at Hanford as a secretary to pay her own way to college.  She attended Brigham Young University for one year.  On September 10, 1954, she married the love of her life, Ralph Douglas 'Doug' Sansom in Richland, Washington. On September 14, 1954, they were sealed for Time and Eternity in the Salt Lake City Temple.
Betty stayed home and together they raised their family of 6 children.  Over the years,  promotions for Doug meant many moves for  the family.   With all the moves, they also had some of their children's friends  who stayed with their family for many years, and we still think of as our family, Margaret Voie Huleatt and David Thomas.  
Doug's first transfer with Bonneville Power and family was in 1967 to Midway, Washington, a very small unincorporated community of about 72 people near the Vernita Bridge neighboring Vantage, Washington.  In 1969, Betty was recruited as the substitute bus driver in Midway.  Betty found she liked driving the bus. Many years later, when the family moved to Vancouver, she continued driving  a bus for the Vancouver School district.   She found the balance of a job as a bus driver was good for a mother of 6 children.
After moving to Walla Walla, Betty got a job as a secretary at the college inside the Walla Walla State Penitentiary.  In addition to working there, she was able to attend classes herself.  With a few additional classes, Betty was able to fulfill a lifelong dream of hers — to get her own college diploma, which she earned  from Eastern Washington University after many years of work towards it.
After retirement, Doug and Betty bought 60 acres outside Goldendale, Washington.  They built their dream home, which the family lovingly referred to as 'The Compound.'  Health issues with Doug eventually prompted a move back to Vancouver.  Betty continued to live there for a few years after his death, until she moved back to Tri-Cities to be closer to family and friends there.  Betty's health necessitated a move to Brookdale Assisted Living, where she lived happily for several years, until being locked down for COVID made her living alone difficult.  Her family moved her back to Serenity Adult Family Home in Vancouver, where she received the individual care she needed.  We thank the staff there for the love they showed mom during the last year.
Betty was a very good dancer.  Dancing was something that had been forbidden to her earlier in her life by her father.  Together, Betty and Doug loved to jitterbug.  At dances, they won many informal contests and loved dancing together for years.  Betty played basketball and softball in high school.  She was a voracious reader, reading many genres and topics.  Travel was also a passion for Betty, and that continued after she was widowed.  Betty and Doug adopted many furry children and had many spoiled dachshunds through the years.  Later in life, she was also blessed to connect with her cousin, Thelma Owens from Tennessee.  Their loving, strong bond of friendship only ended with Thelma's death.   Betty loved people and visiting.  Anyone who visited with her got a smile and usually a story or two about her family. 
Betty was proceeded in death by her loving husband, Ralph Douglas Sansom, her parents, Marion Conner and Goldie Ruby Triplett Conner, her husband's parents, Ralph Duncombe Sansom and Mazie Thomas Sansom, her sister LaRee Conner Pratt and her husband Donald Pratt, her oldest daughter, Sharon LaRee Springer, and grandson Conner Douglas Springer. She is survived by her children: Susan Jahn (David), Shanna Lou Calhoun (Scott), Sharlene Stevenson (Richard), Todd Sansom, and Troy Sansom, 15 grandchildren, 20 great-grandchildren, and many nieces and nephews.
Now Betty and Doug are united for Eternity, dancing  without pain or disabilities.  
She will be truly missed by many friends and family, and especially her children.
Visitation will be held on Friday, March 10th at Einan's Funeral Home from 6:00-8:00 p.m. Funeral services will be at the LDS Church at  895 Gage Blvd., Richland at 10:00 a.m., on Saturday, March 11th. She will be buried in the family plot at Sunset Memorial Gardens in Richland following the services at the Church. Einan's Funeral Home is in charge of services.
My deepest sympathy for you loss. She will be missed greatly. I'm glad she's out of pain and is now with all her loved ones. Hope you give them hugs from me.
May the card games resume.😉
Love, The Foster Kid
RIP Aunt Betty Lou! Give everybody a big hug, kiss, squeeze from me.
Love you forever, Laura Mae
Betty, you've been an amazing gift in my life these past 11 years. Your kind and loving heart welcomed me to your family with open arms. I already miss our interesting conversations on the family history.
One of the things I will miss is how you called Mel your 'Prince' with so much love. Over the years your insights into family dynamics truly made a difference in our lives together.
When you met my son, Anthony, it was love at first sight for both of you. What a joy it was to watch the two of you interact with laughter and heart. Please let my wonderful son know how much his Mama misses him, every minute of every day. Give him a huge hug and kiss from me please.
I'm so thanks to know you're healed and with your beloved. Please let Sharon know that I visit her and Connor's graves and talk with them. I love her grandchildren as my own.
Please forgive me for being so lost in my grief this past year, that I didn't visit you often enough.
Thank you for your ongoing love and support. You've been Mel's second Mom and we will both miss you greatly. Be well and joyful until we meet again.
Thank you for…. Everything Mom.
Rest easy and tell dad we miss him as well.
Love you thiiis much!!!!!!