FIND AN OBITUARY
Service information is posted on our website only with approval from the family.
If you are seeking information not listed below, please contact us.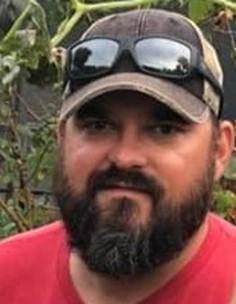 Andrew "Andy" Lusk
01/08/1977 — 07/26/2023
From Kennewick, WA | Born in Jackson, MN
Watch Service
New to Livestream? Watch the tutorial.
Celebration of Life
Starts:
Sat, August 19, 2023, 4:00 pm
Ends:
Sat, August 19, 2023, 5:00 pm
Andrew "Andy" Lusk
"ONLY THE GOOD DIE YOUNG" – BILLY JOEL
"LIFE IS WHAT HAPPENS WHEN YOU'RE BUSY MAKING OTHER PLANS." – JOHN LENNON
"AIN'T NONE OF US GETTING OUT OF THIS DEAL ALIVE" – GRANDPA GEORGE LUSK
Andrew Jon Lusk, was born on a cold day on January 8th, 1977 in Jackson, MN. The first born of Larye and Kay Lusk. He spent the first 14 years of his life playing ice hockey, snowmobiling on the river, soap box derby racing down the hills of Jackson, playing football in the front yard, fishing at Clear Lake on the pontoon boat, and stock/sprint car races at the Jackson VFW Speedway. One of his favorite times was racing go-karts with his family on Sundays at Roemer's shop. Andy enjoyed going to Grandma Bonnie's Dairy Queen making his own sundae in his mini baseball helmets.
At age 14 he moved with his family to Boise, ID and attended North Junior High Middle School. Andy joined the football team and signed up for a ski trip at Bogus Basin without knowing any friends or knowing how to ski. He also attempted to pierce his own ear with an ice cube, a baby potato and one of Mom's earrings. From the 20-student classroom in Jackson to the 100 classmates in Boise, ID this was quite the culture shock for Andy.
After 11 months in Boise, ID, the family moved to Kennewick, WA where he was a student at Desert Hills Middle School playing football, basketball and baseball. He then attended Kamiakin High School where he was on the football, basketball, baseball teams and played the trumpet in the marching band. Andy loved his little red Nissan truck with a baseball gearshift.
In 1995, he graduated from Kamiakin High School and enrolled at Central Washington University in Ellensburg, WA. There he became the President of Alpha Kappa Psi Business fraternity and met the love of his life, Jessica Kinzig. It was in the mountains around Ellensburg where Andy continued his love for hunting and fishing along with establishing friendships and memories that will last a lifetime.
In 2000, Andy and Jessica moved to Seattle, WA and tied the knot August 28th, 2004. Together in Bothell, WA, they had two children, Lauren and Colten. Andy loved watching young Lauren perform in her dance recitals and baby Colten experiencing all his "firsts". Andy and Jessica enjoyed spending time at their local hangout, Pounders and playing Texas Holdem with their college best friends. Andy loved to try new hobbies and interests. He helped make the first batch of whiskey at Woodinville Whiskey Company with his best friends Brett and Orlin, and he participated in handgun shooting competitions. He also enjoyed big game hunting in Montana with friends and his first trip to Disneyland with family. Andy loved to fish in the Puget Sound in his 14 ft aluminum boat which was named Sweet Ass, only to be surprised by a horn from a cruise ship running up his ass.
In 2014, Andy moved his family of 4 to Kennewick, WA where he spent 9 years working in Sales at Builder's FirstSource. Some of Andy's proudest moments were his successful moose (Rico) hunt in Spokane, go-kart racing with his Brother Tony and friend Paul, walleye fishing on the Columbia River and completion of his shop. Andy was passionate about giving back to the community. He was instrumental in forming the Columbia River Walleye Angler Association which hosted competitive fishing tournaments throughout the Northwest. Andy then concentrated his efforts to Richland National Little League as the tournament director. He was always the first to volunteer for field prep, cleanup, assistant coaching and last but not least, GameChanger.
Andy had many titles in life, but his favorite role was being a father. He loved nothing more than spending time with his children. He was always there for them, whether he was helping Lauren prepare for an audition or cheering Colten on at his baseball games. Andy's face would light up watching Lauren perform on stage and Colten pitching on the mound.
Andy is survived by his wife of 19 years, Jessica Lusk and their two children, Lauren & Colten. His parents Larye and Kay Lusk. Brother, Tony (Nicole) Lusk. Sister, Kelsey (Steve) Marquardt. Nieces and nephews, Avery and Ethan Lusk; Mackenzie and Madison Marquardt.
Andy is preceded in death by Grandparents Ken and Betty Webster, George and Bonnie Lusk and Aunt Karen Voss.
The celebration of life for Andy Lusk will be held on Saturday, August 19, 2023, at 4:00 PM at the Sunset Gardens Event Center. In lieu of flowers, please consider making a donation to Andy's family.
Your family is in our thoughts and prayers. Unfortunately, Duane and I just lost a son a month ago. He was 37 years old. I'd like to tell you it gets easier but will have to let you know when that happens. Will keep you in our thoughts and prayers, always . We've always known heaven is a beautiful place and it's just got a little more beautiful with Andy's soul. He was welcomed with the biggest hug ever. His grandma Bonnie gave the best hugs.
Lusk Family, we have been heartbroken for you all since hearing of the loss of Andy. He will be greatly missed by many, and wish we could be there to support you during this time, but know that we are thinking of you all and miss you guys. May his memories carry you through. Sending our love and prayers, from the other Lusk Family in North Carolina ❤️
There are still no words to express our deepest sympathy during this awful time. Know that we are praying for you all and every fishing outing has been and will continue to be dedicated to Andy! We are sorry we cannot attend the service in person but we will be watching remotely!! Sending big hugs and love.
Dear Larry and Kay and family, So sorry for your loss. It is so hard to loose a child. Tom & Cheryl Brooks.
Sending many prayers to you all. May God guide you through these hard times and bring peace and comfort to you 🙏✝️
We are so sorry for your loss. May time and memories help to ease the pain. Know that we are thinking of you all. Our thoughts and prayers are with you all.
Andy, I did not know you well but I know and love the people who love you. Your name came up in conversation often. You were adored. I feel great sympathy for those who have lost you. I hope you are fishing. Sending my love and prayers to all of your loved ones.
My deepest sympathy to you Kay and family for your loss! I'm so so sorry! Keep all in my prayers!
Lusks, gosh where do you start with your family?! I have been so fortunate to know you all for so many years. You are a special group of the "good ones". Doesn't matter how many years go by being around you all always feels good. Although I didn't know Andy as well, I know from reading the outpouring of love on social media he is exactly like the rest of the Lusks I know so well that make everyone feel loved, supported and celebrated.
Thinking about you all during this rough time and know that I am always a phone call or text away to do anything for any of you.
Our thoughts are with you and your family Kay, I can hear your Dad and Grandpa Webster saying remember on the darkest days you have to create your own sunshine and believe that God's hands will help you each day to remember Andy and cherish the memories.Hugs from Iowa,Bruce Chrestiansen
We are so saddened to hear of Andy's passing! We extend deepest condolences to all the family.
Dave and Sue Eakin
Simply there are no known words, that can ease your tremendous loss! My gods good grace help in your healing, you all have many friends that feel your loss
My deepest sympathies hold tight to each other
So very sorry for your loss.
Dear Kay ,Larry and family. My sincere condolences on the loss of your beautiful son, husband and father.
Hugs of Love and Peace.
Marilynn Vacura Gillman.
Larry and Kay and family, and Jessica and family, We send our love and deep condolences for your loss of Andy. May your wonderful memories be a comfort to you.
Andy sounds like a treasure. So sorry for your loss and hold tight to those memories.
My deepest sympathies to Larye Kay, your in my thoughts and prayers
Deepest sympathy to the Lusk family. Dan and Jean Pike
I am so sorry for your loss. Love to all of you during this time. My love and prayers are with all of you.
Larrye and Kay, and family, My deepest sympathy at the loss of your son. Sometimes there are no words…this is one of them Deb Sirovy Kruse
Jessica, my heart breaks for you and your children. I am so sorry, Gina
Andy,
You were such a kind soul, and I enjoyed getting to know you for time Lauren was in Champions.
Jessica, Lauren and Colten,
I am so sorry for your loss. I wish I could wrap my arms around you all right now. You are in my thoughts and prayers.
~Stacey
Again I say, may God's touching hand bring speed to your healing that therebye allows you to concentrate on the wonderful memories you have. See you later Andy🙏
Heartfelt condolences to all of Andy's family and friends. A truly unimaginable loss.
Deepest sympathy to all the families!
Rest in peace and may gods grace be felt by his family and loved ones in the days ahead
Already dearly missed. Thank you for the "Lusk memories!" Your family is one of a kind & I will help make sure they are taken care of.
You will always be missed!!!