FIND AN OBITUARY
Service information is posted on our website only with approval from the family.
If you are seeking information not listed below, please contact us.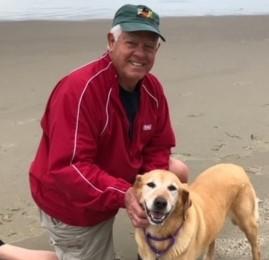 James Hall Mortimer
10/27/1945 — 07/17/2023
From Richland, WA | Born in Henderson TX
Watch Service
New to Livestream? Watch the tutorial.
Celebration of Life
Starts:
Sat, July 29, 2023, 11:00 am
Ends:
Sat, July 29, 2023, 12:00 pm
Reception
Starts:
Sat, July 29, 2023, 12:00 pm
Ends:
Sat, July 29, 2023, 2:00 pm
James Hall Mortimer
James "Jim" Hall Mortimer (77), beloved husband, father, and grandfather, passed away Monday, July 17, 2023 in Richland, WA. Jim was a kind soul that dearly loved his family and leaves an unfillable space in his absence.
Jim was born Oct. 27, 1945 in Henderson, Texas to Francis and John "Joe" Mortimer. He grew up with his 2 older sisters, Judy and Nancy in east Texas and was proud of his Texas heritage. He graduated from Silsbee High School in 1964 and went on to play football for Tyler Junior college on a scholarship. His love of football continued throughout his life; he was a dedicated Dallas Cowboys fan.
In 1966 he joined the US Navy and spent time in California and Tennessee in flight and electronics training. He was based in California between multiple flights on Patrol Squadron VP-50. He primarily worked as a radar operator as the operations took him from California to the Philippines, Japan, and Vietnam as well as South Korea, Taiwan, Australia and Guam. He was discharged to reserves in 1970 and moved back to Texas and re-enrolled in school, first at Tyler Junior College and then University of Houston. He worked as a draftsman and field engineer in the Houston area until he graduated from University of Houston in 1973.
In 1975, Jim's life was changed when his employer sent him to Pasco, Washington and he met his soon-to-be-wife, Peggy Jo (Sundberg). Jim and Peggy were married in Pasco on January 15, 1977. Over the next 8 years they welcomed 3 children into their lives: Anne, Toni, and Matthew. Jim was a devoted father and was routinely building or constructing things for the kids and family including a deck, playhouse, porch swing, and tree house and supporting them in school, sports, and all the other activities . He loved a mechanical challenge, and was always working on rebuilding his Indian motorcycle or Harley Davidson. He was very "handy" and seemingly could do any car repairs, plumbing, electrical, or carpentry work. Jim also enjoyed hunting trips with friends and bowled on several leagues over the years.
Jim continued to work for contractors in the Hanford area until his retirement in 2017. In 2006, he had the opportunity to work in Bridgewater, England for 1 year. Peggy joined him there several times over the year and the two of them toured England, Ireland, Italy and Portugal. In his retirement, he spent many years restoring an Airstream trailer, shooting at the range, bowling, and maintaining his yard and fruit trees. He had regular breakfast gatherings with former co-workers that he always enjoyed. Jim loved having dogs, and in his retirement he and Peggy adopted Tippy, a golden lab that Jim doted on until her death in 2022. Most of all, Jim enjoyed spending time with his family and grandchildren: Vincent, Claire, Maxwell, and Elliotte. He and Peggy would often pick up the kids after school in his Mustang convertible and go for a ride. They will all miss the gentle giant that was Grandpa.
Jim is survived by Peggy Jo (Sundberg) Mortimer; children Anne Elizabeth Mortimer and Jason Bryenton of Bellingham, Toni Lynn Cuello and Elias Cuello of West Richland, and Matthew James and Victoria Mortimer of Pasco. He leaves grandchildren Vincent Cuello, Claire Cuello, Maxwell Mortimer, Elliotte Mortimer. He is predeceased by his parents and sisters, Beverly Ann Mortimer, Judy Hopper and Nancy Martinez.
A Celebration of Life will be held at Einan's Sunset Gardens in Richland on Saturday, July 29th at 11:00 am, followed by a reception. Memorial donations can be made in Jim's honor to National PKU Alliance (www.npkua.org).
Uncle Jimmy was a great man and will be dearly missed.
I never got to meet my cousin face to face but talking with him on Facebook messenger and when he gave me the strength to continue to search for my father. I will never forget that. Cousin Jim will be missed and memories will be held deep inside my heart.
My Deepest Condolences to the Mortimer Family During This Sad And Difficult Time. My Prayers And Thoughts Are With You And Your Family.❤️
Jim was the first person I met in the Tri Cities after relocating here in January 1978. We had adjoining offices in the 3000 Area as we both worked in Contract Administration for JA Jones Construction at Hanford. Being just out of college and new to the Tri Cities I soon came to the realization I really didn't know how things worked. Jim took me under his wing and helped me make a go of it. I'll always remember him as the patient and thoughtful individual he was that helped me get through this time of my life. Jim – Thanks for everything. You will be sorely missed.
I was so very sorry to hear about Jim's passing. I enjoyed working with Jim at FE&C. He was always very personable and easy to get along with. My thoughts are with Peggy and family.
Whether it was making sure there was gas in the car for his girls' night out or fixing a broken heel for prom, being friends with Toni meant being welcomed into the Mortimer family with open arms by Jim and Peggy. He was a great man to know and his legacy lives on in his incredible children and grandchildren.
This picture of Jim and Tippy is just perfect.
Jim was indeed the best. I remember visiting when Anne was new, and Jim was on the carpet beside her. He was trying to find words to explain the changes she brought the family. It was very touching, he was completely besotted. I was trying not to cry. Jim was this way about his whole family.
While you're flying high above, I hope you and Rick are taking a VP-50 P-3 for a ride.
You are loved and missed.
Out thoughts and prayer for Peg and your family.
Jim was always a bright part of my work days. Diligent, experienced, a solid teammate.
Also a great mate out fishing on the ocean and hanging with the gang before, during, and after.
Unfortunately, Gloria and I will be out of town and miss the Celebration.
Enjoy, be at peace, and know that Jim will be remembered well.
Scott and Gloria Seiler
Jim, I was blessed to know you. My heart aches with you gone from us. You will be missed.
I was blessed to known
Jim.,
Many tears and great sadness…he is missed now and always…
Jim you were more like a brother than an in-law to me. I have so many memories watching you grow into the man you became. You were a good man, father, and grandfather. I saw the happiness when you met you sweetheart that can not be put into words. Rest in peace my brother.
Uncle Jimmy – fly high with the angels. Save my place for me and give my mom and dad a big hug. You will be greatly missed.
He was the best cousin a guy could have. He was always up for a cousins reunion of which we never had enough. So many fond memories of you Jim it seems since we were little .Football was always on your mind. A great guy wonderful person and loving husband, father and grandfather.. I will see you at the big Hall family reunion one day as we meet in Hallelujah Square