FIND AN OBITUARY
Service information is posted on our website only with approval from the family.
If you are seeking information not listed below, please contact us.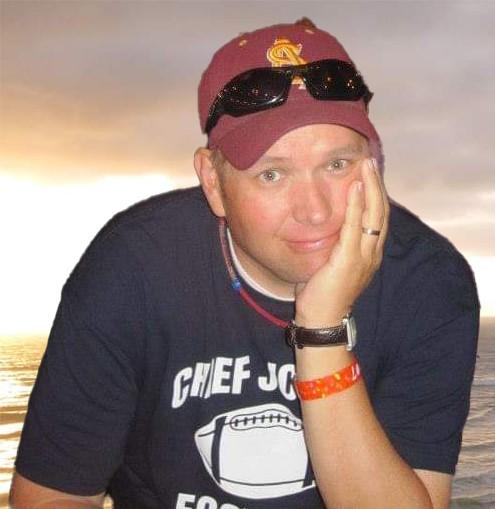 Justin Rhineheart
07/12/1970 — 07/04/2023
From Richland, WA | Born in Payson, AZ
Watch Service
New to Livestream? Watch the tutorial.
Celebration of Life
Starts:
Sat, July 15, 2023, 3:00 pm
Location:
Einan's At Sunset Funeral Home
915 Bypass Highway Bldg. H Richland, WA 99352
Graveside
Starts:
Sat, July 15, 2023, 4:00 pm
Location:
Einan's At Sunset Funeral Home
915 Bypass Highway Bldg. H Richland, WA 99352
Justin Rhineheart
Justin E. Rhineheart, 52, died July 4, 2023 in his home in Richland, WA.
Justin was born on July 12, 1970 in Payson, AZ to James Edward Rhineheart and Margaret Ann Crandell. He grew up in the Heber and Show Low area with his siblings Annette and Tony. It was such a small town that everyone referred to each other as cousin or aunt and uncle. Justin grew up to be a friendly kid with so much love for all around him.
Justin played football at Snowflake High School and Show Low High School. He also enjoyed playing softball on various teams even playing fast pitch with his father. Justin graduated from Show Low High School in 1988.
Justin served a mission for the Church of Jesus Christ of Latter Day Saints in the Philippines Davao area from November 1990 to October 1992. He loved the people of the Philippines, especially the kids who were amused by his arm hair.
Justin married his best friend, eternal companion, and love of his life April Amidan on October 15, 1993 in the Salt Lake City Temple. The couple were blessed with four children: Lexi, Nikki, AJ, and Kayla. Together they made Richland their home.
Justin was diagnosed with a rare kidney disease in 1998. He battled this disease and related health conditions the rest of his life.
Justin attended Columbia Basin College and Northern Arizona University for his Bachelor's Degree. He also got a Master's Degree from Heritage University. Justin was a teacher and coach for 16 years at Chief Joseph Middle School until his disease advanced. He was a beloved math teacher and baseball and football coach and will be remembered for being a funny and compassionate teacher.
Justin was an incredibly loving and supportive father and husband. As a family they enjoyed their many adventures together at Disneyland creating magical memories. He loved and treasured his wife April and supported her as she supported him throughout his life. He taught his children many important things but most importantly how to love and cherish others.
Justin will be remembered as a friend to all he met, no one was a stranger to him. His kindness and love was unmatched. He was always complimenting and lifting up everyone around him.  All who knew him were blessed and inspired by his bravery, strength, and determination every single day. Though his time on this earth was short it was filled with love and family. He will be very missed by all who knew him and were inspired by him.
Justin is survived by his wife April, mother Margaret, his four children: Lexi (Manny) Canales, Nikki, AJ, and Kayla Rhineheart and his two siblings: Annette Hancock and Tony Rhineheart. Justin is preceded in death by his father James Rhineheart.
The family expresses heart-felt thanks to Dr. Patillo and Dr. Arif for their many years of medical service on behalf of Justin. Their compassion and dedication was appreciated. Justin's life was extended by their medical expertise and care.
A memorial service will be held on Saturday, July 15, 2023 at 3pm at Einan's Chapel at 915 Bypass HW Richland, WA 99352. Services will also be available via livestream.
I had Mr. Rhineheart as a math teacher in 6th grade for his first year teaching at Chief Joe. He is one of the few teachers I will always remember. He was kind, smart, funny, and an all around great man and teacher. My heart goes out to his family and friends.
Justin is an amazing man who had a major impact on the trajectory of my life. We met when he moved up to Washington and lived with the Deckers. Hué is already great friends with. Justin and I quickly hit it off and spent a lot of time together. He actually help me get my first job in construction after I graduated from high school and we spent the summer trying to work each other and learning a lot. His decision to serve a mission help to solidify my own decision to serve, which was one of the best decisions I could've ever made. watching him fall in love with April, and, seeing his devotion to her throughout the years has been an honor. To know him, and to have been influenced by his good nature honesty and true friendship is something I will treasure for eternity. I can't wait to see him again, maybe play a game of softball or take another try at peanuts and Pepsi 😊. I will forever cherish my friendship with JUSTIN.
Sincerely, Shane Young
April, my heart goes out to you and your family. Justin was my oldest friend. I will always cherish the times we had as youth and as adults talking about our families. His love for you and the kids was unwavering. I will truly miss him
April and family,
My heart sorrows for your tender feelings and loss. Over the years I have loved watching reports of your trips to Disneyland and the growing of your family. I was saddened that Justin had to have so much pain, give up so much in life, yet in so doing, he nourished all who knew him.
I remember the young teenager who came to stay with the Deckers. I loved his heart, his struggle, his yearning to do what was right & eventually going on his mission. There were many cinnamon roll visits with special talks. I will always be grateful for the time he allowed me to be a part of his life.
He has always had a piece of my heart, I love him dearly.
May you each be blessed as you go forward knowing he gave you his best self. He'll be absent for awhile, but reunite with you for eternity when the time is just right. What a gift is yours! ❤
Dee Young
Justin was a great man who led his life with courage and faith. We will remember him as an example as we finish our time on this earth. We look forward to seeing you again, Justin.
With all our love,
Justin loved unconditionally and was as Loyal of a friend as there is. He was a Giant Teddy Bear and had a Heart of Gold. Donna and I send our Love and Condolences to April and the children. He truly made every day brighter to anyone around him. Families are Forever!!
My Pal, my football playing buddy, my best friend. Justin you will always be a part of my heart & soul. Till we meet again. Sending love to April & momma Rhineheart and all of Justin's family.
Sending our love, appreciation and prayers to April and all of Justin's family and loved ones. We loved this fine man. The times we spent with him were special and will always be remembered.
May the Lords sweet comforting Spirit be with you all
We loved him and his sweet gentle spirit and always such a pleasure to have him our home. We considered him a part of our family and one of "our boys". We have great memories of ball games and family times with us. We look forward to our reunion with him. Send our love to April and Justin's family and loved ones.
My heartfelt condolences to April and all of Justin's family. I had the pleasure of working with Justin at CJMS . I never saw him give way to frustration, stress or petty annoyances. He was an example of kindness and positivity. Truly a nice person to be around.
You have much to be proud of and feel good about as you reflect on Justin's life. May good memories of Justin and the love of friends and family sustain you during this heartbreaking time.
I want to extend my sincere condolences to Justin's family. I was privileged to teach with Justin at Chief Jo. He was so positive and caring with his students. I always admired how Justin took his health issues in stride and tried hard not to let them interfere with living his life to the fullest, especially with his family. My very last substitute job was for Justin, Sue he could take a trip with his family. He will be greatly missed.
I served with Justin in the Philippines. He was so kind and always gave a warm smile and laughed at my dumb jokes. My heart breaks he had such health battles. Heavenly Father perfected him quicker is this life. I have no doubt he is teaching in his humble way to many spirits on the other side of the veil. Until we meet again, ayo ayo my friend!
Not only were Justin and I apartment mates in the Philippines, he was a missionary mentor and good friend. He was quick with a smile and joke, generous with his jar of Matta's salsa from his favorite restaurant in Mesa, and ever ready to dispense a little cowboy wisdom. I love Justin and I know he is happy with his father in heaven. Cheers! (Root beer float in hand)
My sincere sympathy to Justin's family. I taught with Justin at Chief Jo and after my retirement I often subbed in his classes. It was a pleasure to be a Sub in Justin's classes as everything was very organized. The best part, however were the students. They knew why he wasn't there and respected and loved him so much that they wanted to do their part to support him by being good students.
Mary Peters
My heartfelt Condolence to my mission mate's family Justin Rhineheart. I served with him in the same mission and in several areas(since i am one of the AA's, I do apartment checks for all missionaries in my areas), he was my radiant district leader and a very kind hearted man, a gentle giants . Rest in Peace and fly high Justin, 'til we meet again my valiant friend.
I'm so sorry for your loss. Justin was my son's teacher and he always said how very nice he was to him. He was always excited to hear how he was doing after he graduated too. Justin was such a very caring person that will be dearly missed by all who knew him. My sincere condolences to April and his family.
Goodbyes are not easy, but good mornings are wonderful. I look forward to that day. You will be missed. Love and prayers for April and Justin's family.
What a kind soul Justin was. I enjoyed working in his classroom at Cj. I'm sorry for your loss but his gain in heaven.💛
Justin was a schoolmate for many years and an amazing friend to all. His passing leaves a big void that is hard to fill. Our Love and Prayers go out to hid Motber Margaret, Siblings, and most of all Wofe and children. Swnding Love and Prayers.
Rich Beecroft
Mr. Rhineheart was my teacher in middle school and I still talk about him to this day! I am so sorry for your loss, he made a huge impact on me as a kid and I am thankful to have known him.