FIND AN OBITUARY
Service information is posted on our website only with approval from the family.
If you are seeking information not listed below, please contact us.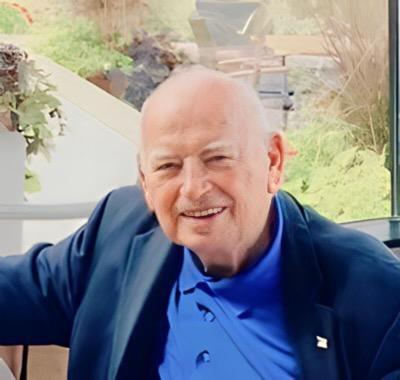 Joachim Stephan
03/31/1933 — 09/19/2023
Watch Service
New to Livestream? Watch the tutorial.
Celebration of Life
Starts:
Fri, October 13, 2023, 11:00 am
Joachim Stephan
In Loving Memory of Joachim "Joe" Guenther Stephan 
Joe Stephan, a beloved husband, father, grandfather, great-grandfather, and friend passed away peacefully at the age of 90 on September 19, 2023.  His departure to our Heavenly Father leaves a void in our hearts, but his memory will be cherished by all who knew him. 
In recent years, Joe lovingly wrote:  I think of my life as a journey on a road. The road that already lies behind me was sometimes stony, sometimes even rocky and sometimes relatively smooth. But it has never been level and smooth. It has always required of me that I climb higher and higher to a mountain peak that seems to lie in the far distance and disappears in a distant cloud. I cannot clearly say what the cloud is shrouding – but I do know that there lies my final destiny. It is also my belief that my best days are still ahead when I return to the Home from which we came. 
Joe was born to father Kurt Stephan and his mother Marie on the 31st of March, 1933 in the town of Breslau, Germany.   He was baptized in the Catholic Church of St. Carolus on April 6, 1933.  Joe spent most of his childhood surviving WWII and escaping to the West after the ensuing Soviet invasion of Germany.  In 1950, during the reconstruction of Europe, Joe was given the incredible opportunity to come to the United States as a foreign exchange student sponsored by the kind members of the Church of the Brethren, under a program set up by General Eisenhower.  In the rich farm country of Medina, Ohio, Joe's perspective of the United States changed from the enemy to the land of the free.  Although he had to return to Germany after graduating from Chatham High School in Medina, Ohio, he petitioned for a visa and served as an interpreter on an immigrant ship to Ellis Island where he was able to return and proudly serve in the US Air Force during the Korean War, stationed in Japan and Taiwan.  While serving, Joe's most cherished moment was becoming a naturalized US citizen.   
Also, while serving in the USAF, he met his sweetheart Jeanette, whom he married and together they raised their four children in Ohio, eventually moving to Washington State in 1977.  Joe received his Bachelor's degree from The Ohio State University as a Geodetic Scientist in 1962. He worked as a Senior Research Scientist at Battelle Memorial Institute where he researched photogrammetry-based aerial and satellite remote sensing. He worked for Battelle for 45 years.  In his private life, he and Jeanette were very active in the Community of Christ Church, raising their children to pray and worship our Lord Jesus.  Joe served as an Elder in the church as well as a long-serving pastor.  He was also active in the Boy Scouts of America serving in leadership roles in Ohio and Washington with his sons. 
Jeanette unexpectedly died in 1989 just before Joe and Jeanette planned to retire. Joe thought he would spend his golden years in quiet retirement.  Little did he know, God would bless his life with love again with Janice "Jan" Duett Hohenberg, his loving wife of over 30 years.  Together Joe and Janice traveled abroad and enjoyed spending time surrounded by family and friends. Their home was a favorite place for grandchildren and great-grandchildren. They also were active in the Community of Christ Church and treasured their time with friends.  Joe and Janice enjoyed their time together and they never ran out of conversation.  Janice recalled that Joe was such a pleasure to be with and was a blessing. 
Joe is survived by his loving wife Janice, his four children: Marie Holst, Eric Stephan (Teresa), Annette Carlson (Alan), and Alex Stephan (Janine), Jan's children:  Paula Yencopal (Mike), Ken Hohenberg (Trish), Krista Weeks (Steve) and too many grandchildren and great-grandchildren to count!  He is also survived by his family in Germany including niece and Goddaughter Brigitte Dithmar, niece Jutta Hendl, nephew Günter Stephan, their families, as well as extended family across the United States. 
He was preceded in death by his parents, Kurt and Marie, his sisters Hedwig and Cecilia, and brothers Guenther, and Kurt.   
The family would like to especially thank Teresa Ramirez, his CNS nurse and his CNS caregivers for their care and concern. 
A Celebration of Life for Joe will be held on October 13, 2023, at Einan's Event Center at 1451 Cemetery Road in Richland at 11:00 a.m. following with a reception. Joe will be buried with military honors at a private graveside service. 
I was blessed to have Joe for my father-in-law for 30 years. He was always kind, loving, and patient. Joe was a great father to his four kids, and a wonderful papa to my three children. He will always hold a special place in my heart and I cherish all my memories of him. Joe will be greatly missed.
Tom and I wish to express our continued love and blessings for Joe's family and my dearest Aunt Jannie at the passing of Uncle Joe! We particularly loved sharing experiences of our adventures with Community of Christ and our mutual testimonies of Christ's love for all humanity! We shared special interests also of near death experiences that touched our lives as reminders that as humans we are also eternally connected together! Our love will continue for all the Stephan family including Marie, Eric, Annette and Alex and their families and to my dear Aunt Janice Duett Hohenberg Stephan who survives with her children Paula and Mike Yencopal, Ken and Trish Hohenberg, and Krista and Steve Weeks along with their children and grandchildren!!
Joe and Jan have been blessed with a village of love! Our love and blessings to all friends and family members!
To all of Uncle Joe's family,
Even though we were miles apart, I always loved Uncle Joe! So many special memories in Big Mama's and Big Daddy's yard! I appreciate being able to see the service! It was excellent! Love and praying for all of you!! Love, Nancy Dennis Hopewell
Joe was my mother's youngest brother and my beloved godfather. I think of him with love.
As a child he was like an angel for me, not visible but always there. And so it will remain.
Joe's deep faith was an encouragement to me. The inspirational stories that he shared from his life have impacted mine. Joe will be greatly missed. May his family be surrounded with the incredible love of Jesus.
What a wonderful tribute! It sounds like he had a full and blessed life. God be with you all in your time of sorrow.
Jim and Lori Lachut
Joe lived a long, amazing life. What a beautiful legacy he is leaving behind for his family and friends. May you cherish all the memories. God bless.
My condolences to the family of Joe Stephan. His obituary is beautiful. I am a friend of the Carlson's, thank you for letting me share.
I met Joe in 1989, when I joined the Geophysics section at Battelle. Joe was such an incredible blessing in my life. His brilliant mind, loving heart, & delightful personality were such joys. And I loved his stories & deep curiosity about things seen & unseen.
When our family's dearest person, Harlan Foote, was in his dying weeks in 2010, Joe lived out the love of Jesus by sitting with Harlan & sharing long discussions about the intersections of faith & science. Over their shared years at Battelle, Joe introduced Harlan to some treasured books on by people who returned from near death experiences. These, & the blessed time they spent together during Harlan's last weeks helped pave the way for Harlan's acceptance of salvation through Jesus.
I really loved Joe as a dear friend, & am sorry he is gone from this world – but so glad to know we will see him again in heaven. I pray for comfort for all who mourn his passing.
I had the honor of being Joachims aid briefly. I told everyone I met about him he was so amazing to listen to . He was entertaining to sit with and people watch. I'm so glad I had a chance to spend time with him. He will never be forgotten
It was a blessing to have experienced Joe's ministry over the years that I attended Richland congregation. Even when I came for visits, I could count on a warm greeting. My condolences to Jan and all the family. He will be missed by many. Well done good and faithful servant.
Joe was a giant in my life. I'm grateful for his nurturing guidance in many capacities growing up in the Richland Community of Christ.
May God bless you all.
Joe, you were a treasured friend. So many others claim your friendship as well. You never gave up looking for the best future no matter the problems along your way. Now you are experiencing your heart felt drsire to see the face of God. I honor your memory and smile to think of your renewed adventurous life.
Great Guy …!