FIND AN OBITUARY
Service information is posted on our website only with approval from the family.
If you are seeking information not listed below, please contact us.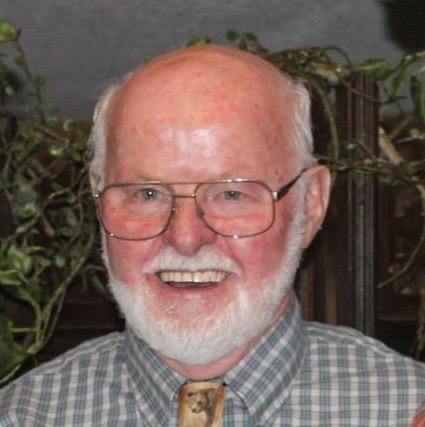 Johnie Ray McIntyre
11/01/1930 — 09/01/2023
From Richland, WA | Born in Shamrock, TX
New to Livestream? Watch the tutorial.
Johnie Ray McIntyre
Johnie Ray McIntyre passed away on September 1st, 2023. In his words, "Old Johnie Mc left town today, and hopefully is on his way to join his late wife Glenna Jeanette McIntyre who passed away on June 21st of 1984.
Johnie was born on November 1st, 1930, in Shamrock Texas, a small town located in the panhandle of Texas. Johnie was the youngest of five children born to Emmitt Edward and Ida Pearl McIntyre. When he was eleven his father died of Tuberculosis and his mother relocated their family to Fort Worth Texas to be with her sister.
At the age of fifteen Johnie (fibbed as he called it) about his age, and joined the Texas National Guard, where he became a maintenance crew member working on army tanks. As he was approaching his eighteenth birthday, he decided the Navy would be more to his liking, but because he was underage, parental consent was required. So, while still in the National Guard, he went to work convincing his mom that the Navy would be a better fit for him and off to Dallas they went, culminating in Johnie's enlistment in the Navy on October 5th, 1948, at the age of seventeen.
He completed basic training in San Diego California and upon completion of boot camp, was assigned to the USS Rowan DD 782 a destroyer. A brief time later, he was transferred to the USS Gurke DD783, another destroyer in the same squadron. Their destroyer squadron left San Diego for Yokosuka Japan in March 1949 for a 9-month tour of duty and returned to the United States in November. In May of 1950, Johnie had a second Tour of Duty on the USS Gurke, shipping out once again to Japan. In June, the Korean War broke out and Johnie's Tour of Duty was extended.
Johnie was a Gunner's Captain on the USS Gurke, one of the Gun Fire Support Group's six destroyers in the Inchon Invasion during the Korean War. They were sent in on day 2 of the invasion, with the intent of drawing the enemy's fire to them, so that the enemy's positions could be revealed and if possible, eliminated. These six destroyers were later named the Sitting Ducks of Inchon. The Gurke was hit by enemy fire three times during this battle.
Unbeknownst to Johnie at the time, his older brother a WWII Marine Sargent Reservist who had been called back into service, was on a barge that passed within just yards of the USS Gurke during the invasion.
After the USS Gurke, Johnie was transferred to the USS Laws DD 551 another destroyer. Johnie was Honorably Discharged in 1952.
Johnie met Glenna, a born and raised Southern California girl while he was on shore leave in 1952. They remained together from the time they met until the time of her death.
Johnie worked minor jobs after first leaving the Navy. Then he took a job with North American Aviation. During his 21 years with them, he worked on many projects, F-100 Fighter planes, X-15 Experimental Aircraft, B-70 Bombers, B-1 Bomber, Commercial Sabreliner Airplane, Apollo Space Capsule Program, Minuteman Missile Program and the Boeing SST Program.
When the B1 Bomber Project was shut down, Johnie took a job with Rockwell Hanford and relocated his family to Richland Washington. He spent the next eleven years working as an engineering manager at Hanford Nuclear Reservation and retired in June of 1988.
Johnie was preceded in death by his wife Glenna Jeannette McIntyre, his sister Alene, his brothers Charles, Bill and Bob, his cousin Murlene Garavaglia, his sister-in-law Catherine McIntyre, lifelong friend Wayne (Pete) Peterson, long time fishing buddy Bob Oliver and his dear friends Bill, Leo, Wally, Frank and Russ Burks.
Johnie leaves behind his children Alan McIntyre, Cynthia J. Harrington (Rod), and Darren McIntyre, all of Washington, his grandchildren Stephanie Harrington, Washington, Kristina (Joshua) Galloway Oklahoma, Ashley McIntyre, Washington and four great grandchildren Nevaeh, Justine, and Masen Galloway and Baby Girl McIntyre due in December.
Our dad – He was Dad, Pops, Pop, Dadio, Pappy, Pop Pop, Grandpa, He taught us kids at an early age gun safety, he taught us how to shoot, he taught us how to fish and how to clean what we caught. He taught us how to load our own shotgun shells and he taught his sons how to hunt and how to dress what they brought home. Our dad was a white-collar worker, but he was like no other white-collar worker we ever met. He was a perfectionist. There was nothing he couldn't build and nothing he couldn't fix. He was that guy.
He could complete the Los Angeles times Crossword Puzzle and work the Jumble through his seventies and even into his early 80's. Even into his 90's when dementia had set in, you would still find him sitting at his kitchen table working the Jumble.
Some of the things we will miss most are what his first born granddaughter referred to as Johnieisms: "You know my CRS works overtime." or "You know I lost my ears (talking about not being able to hear) in Korea." and always, when ending a call, "Well, whatever you do, just be damn careful."
Tip a Glass in My Honor
Tip a glass in my honor
And perhaps pour a sip on my grave.
It's not so much the whiskey
As your company I crave.
Sing me one of our favorite tunes,
We used to join in at the pub.
Remember me fondly as you sing,
And I'll remember you to God here above.
~ Kelly Rooper
Good job with Johnnie's history, even including my dad as his friend. I will miss all the times the men spent together. Seems those friendship barely exist anymore. May his life always be celebrated with a smile. His legacy follow after him and his life have a new beginning in Heaven. Amen
Love always, Gene and Debi Pardella
Good job with Johnnie's history, even including my dad as his friend. I will miss all the times the men spent together. Seems those friendship barely exist anymore. May his live always be celebrated with a smile. His legacy follow after him and his life have a new beginning in Heaven. Amen
Love always, Gene and Debi Pardella
This is Pete Peterson son Ron, Mac and my dad were best of friends and would meet my brothers and friends in Colorado elk hunting and fishing. I can remember one year I challenge him to a fishing contest. He took this seriously and was gathering all of his best fishing gear, I grabbed a couple lures and we were off to the lake. he started fishing right away and I kept walking down the shoreline. I looked back and he all ready caught a trout so I started fishing. He was reeling them in and so was l. it started snowing so we went back to camp to celebrate. we poured a whiskey and counted the fish. He had five and i had four (four is the limit) and stated he won. All my fish were bigger but he argued he won, so that was the end of that. I still drive his 1968 F250 Ford truck and has many memories with him and my dad. rip Ron Peterson
I miss you so much Johnie,
You ands Glenna were so good to me. I love you both so much. I am happy you are together now. You will be so missed.
Love Stevie xoxo
To :Cindy, Alan,Darren and Stephanie,
I am so sorry for your loss. He was a great man and truly one of a kind. The world seems a little dimmer without him here. I love you guys!
Stephanie
So very Sorry for your loss.
Gaylord Daleen
President, USS GURKE DD783 Reunion Association
Our family enjoyed the friendship of Johnnie over the years. If you needed anything he was there. He will be missed by friends and family.
My condolences to his family.
My brother, sister and myself were loved by our father more than life. He will always be the greatest man I've ever known. I loved him dearly and missed him more.
The only good that has come for us with his passing is that he's finally with our mom, once again.
It was an Honor and Pleasure to know John.
We had some really great times bowling together, Back in the day John, Russ Burks and I won the Tri-Cities Bowling Tournament, boy was that fun. Great Memories.
RIP 🙏 My Good Friend.
Johnie,
Sorry I never got to meet you, but Al is your twin. My Moms side are McIntyres but Iriris.
My condolences to the McIntyre clan. Ron Rebelato