FIND AN OBITUARY
Service information is posted on our website only with approval from the family.
If you are seeking information not listed below, please contact us.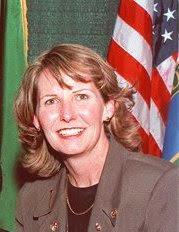 Karen Ann McGinnis
07/25/1952 — 09/05/2023
From Richland, WA | Born in Hawthorne, NV
Celebration of Life
Starts:
Thu, October 12, 2023, 11:00 am
Karen Ann McGinnis
Karen was welcomed into heaven the evening of September 5th after a courageous three-year battle against ovarian cancer.   She maintained a positive attitude up until the end, always expressing continued love for her family, friends, and health care providers.
Karen was born in Hawthorne, NV on July 25, 1952, to Lyle and Lucille McGinnis.  She had both an older (Cathy) and younger sister (Leslie) whom she loved dearly.  Just after beginning school in Hawthorne, her family moved to a home in the hills above Medford and Phoenix, Oregon where she and her sisters spent many hours exploring the hills on horseback.   Karen graduated from Phoenix High School in 1970, working her way through college to receive a B.S degree from Oregon State University in 1974.  She later graduated with an M.A. degree from Washington State University in 1980.  Both degrees were in Agriculture Economics.
In 1977, Karen married William Sandusky in the same small church in Hawthorne where Karen's parents were married 30 years earlier and she was baptized.  They were blessed with two daughters, Jessica and Leslie, and two grandsons, William and Alexander.  Karen was very proud of both daughter's educational and professional accomplishments and of being a "Grammy".
Karen was the founding Director of the Volpentest HAMMER Federal Training and Education Center, a Department of Energy (DOE) Federal asset.  She was responsible for the initial conception of the Center, oversight of the construction activities, and directed the first 20 years of operations.  Karen guided HAMMER to its status as a premier center for safety and health training that includes the most multifaceted facilities in the world.  Her crowning achievement was the establishment of a partnership with organized Labor, Federal and State agencies, Tribes, safety professionals, and community leaders to provide direction for the operation and future vision of the Center.  Karen received numerous awards for her efforts including a "Special Achievement Award" for outstanding Leadership in furthering the DOE Voluntary Protection Program.  She also served on the Federal Law Enforcement Training Center Advisory Board.  She retired in 2018 after more than 40 years of employment with various Hanford contractors.
A Celebration of Life will be held at the Enian's Funeral Home Event Center on October 12, 2023, at 11:00 am with lunch provided following the ceremony.
I met Karen in November 1976 when I transferred into the PNNL group where she worked, and we became good friends. She watched my oldest daughter while I was in the hospital giving birth to my youngest daughter. Our daughters became friends and the four of them attended summer soccer camps at Hanford High School for several years.
I have so many memories of the fun times I had with Karen. Early in our careers we took a class on persuasive presentations where the male instructor told us that women should not wear pants and could not be successful leaders. Karen certainly proved him wrong! She was a very strong and successful woman.
I will miss my old friend Karen very much. My sincere condolences to Bill, Jessica, and Leslie.
I am so sorry Bill, Jessica and Leslie for your loss. I am also sorry for all of us at having lost a shining soul and great human being. Karen was a force for safety in the workplace, an advocate for labor (and all workers), and a champion for the HAMMER training center. Working with her at HAMMER, I came to understand what passion and advocacy could bring about. She did not take "no" for an answer when she knew it was the right thing to do..and she made happen things I did not think were possible. Karen was equally at home in the halls of congress, the Union Hall, and on the plant floor .
Karen was also a good friend to me and my wife. She always told me "..you listen to Candy, she knows what's best for you!". And once again, she was right.
I know she is looking down on us with her mentors, Sam Volpentest and Bob Ferguson, and that we will feel their guidance as we soldier on.
Rest in peace Karen.
~~Paul
Karen wil be missed. She was a force to be reckoned with. Karen gave me a chance to help in the worker training worker program before the new facility was complete, and I will forever be grateful for her letting it be the best job I ever had. She was fiercely loyal to her employees and that attitude was appreciated. Sending loving thoughts to Bill, Jessica, and Leslie, your loss has to be so difficult. But Karen and her impact will never be forgotten.
We are so very sorry to hear of Karen's passing. I enjoyed working with Karen over the years while at TRIDEC and during my time with MSA at the site. Truly a beautiful person who left a legacy at HAMMER and the community. Our thoughts and prayers are with her and her family.
Bill, Jessica, and Leslie,
Your mom/my sister will be missed by the family and friends so much. There are not enough words to describe how much she will be missed. She was the leader of the pack and always planning something… As she would say she was a plan-a-rama. She had a good sense of humor more so when she was younger, but I think Cathy Mohan, Candy and others could let you in on some of her shenanigans.
Live Love,
Aunt Leslie
Karen was such a great friend to my daughter so many times and that made her such a special person.
Would meet her many times with my daughter when they went to TGIF. What great times those were.
Wonderful and special memories
For over 30 years, I was one of Karen's partners in making the vision of HAMMER and its incorrigible worker training cadre a reality. In the complicated mission of a safe cleanup and the safely and health of DOE Hanford workers, she never wavered, and like her partner, Sam V. , never took no for an answer.
For all these decades, I have watched her overcome obstacles and create partnerships that will make our planet 🌎 a much better place as long as it can survive. From all of her NIEHS worker trainer partners, we love you, we miss you 😢 and we will never forget you and your legacy!!!!!
Karen was A special person and leader did A great job leading Hammer.She alway gave me good advice.Its A honor to worked known Karen and Bill
I don't have the words to express how much Karen meant to me. She was a friend and mentor. She was always there for me and helped me become the leader and person I am today.
I will miss her smile , her generous heart, and the competitiveness on the soccer field 🙂 (she always told a story about us playing against each that made me laugh).
Karen and Bill was my neighbor in Kennewick and knew her at Hanford. She was a wonderful person and well be truly remembered and missed.
You will be missed.
Karen was one of the most genuine, loving and fierce individuals I have ever had the honor to know and work with. She made a big impact on my life and especially on the life of my husband, Lee Legowik. She liked to call him "my general!" And he was indeed. We both cared for her deeply and regret her passing.
I met Karen in 2007 when I became a union representative for the Operative Plasterers and Cement Masons Local 478. I learned right away that Karen was a special person who knew how to bring people together and get things done.
Over the years as our relationship developed. Karen taught me many things; She told me that we were leaders and we needed to lead by example and do the right thing for the people that we represent who could not and for the greater good of those people. She was also very politically active and taught me the importance of participating in the process and getting our message across to our representatives. I will forever cherish the words and the challenges that Karen gave me personally to be better and challenge myself and others. Karen was a champion for worker safety and the men and women who performed trade work in many different industries.
As a friend Karen always had time to listen and advise me on issues personally and professionally. We had many lunches at the HAMMER cafeteria together. She would always tell me to order extra french fries and eat half of them off my plate since she had not allowed them in her diet..
Overall Karen was excellent, loyal, fierce, fearless and compassionate all at the same time. I know her legacy will live on with her family, friends and professional achievements. Thank you Karen for everything you taught me.
"I've known and worked with Karen for more than 30 years. We just happened to have a "mutual" friend – Sam Volpentest. I know that Sam has been looking after Karen the last six years.
I could say that Sam taught Karen how to request support – from Congress, from DOE Secretaries of Energy and from National Labor leaders. But that would only be partly true. Where Sam used every bit of force he could find for his Hanford investments, Karen used a simpler method of joining forces with the National leaders, to accomplish the impossible with HAMMER. This included getting HAMMER built in first place, and then continuing to get HAMMER funded even through several Prime contractor changes, and National Administration changes. All without raising her voice in anger.
Karen has more HAMMER converts who believe that HAMMER is the ONLY answer to Hanford-wide safety. She developed every one of those supporters.
In addition, over time Karen also managed to populate HAMMER with one of the finest group of individuals, who also became dedicated Champions of HAMMER. Workers training workers.
I was also honored to know Bill Sandusky – who on more than one occasion Bill encouraged both Karen and I to simply RETIRE – and go out and enjoy some of what our world has to offer.
Karen's passing is a huge loss to the Tri-Cities, to Hanford, and to Labor and management. I know the staff at HAMMER will do everything in their power to continue to build on what Karen created. HAMMER is unmatched anywhere else in the world. It has a world-class staff. It exists primarily because of one very special lady — Karen McGinnis.