FIND AN OBITUARY
Service information is posted on our website only with approval from the family.
If you are seeking information not listed below, please contact us.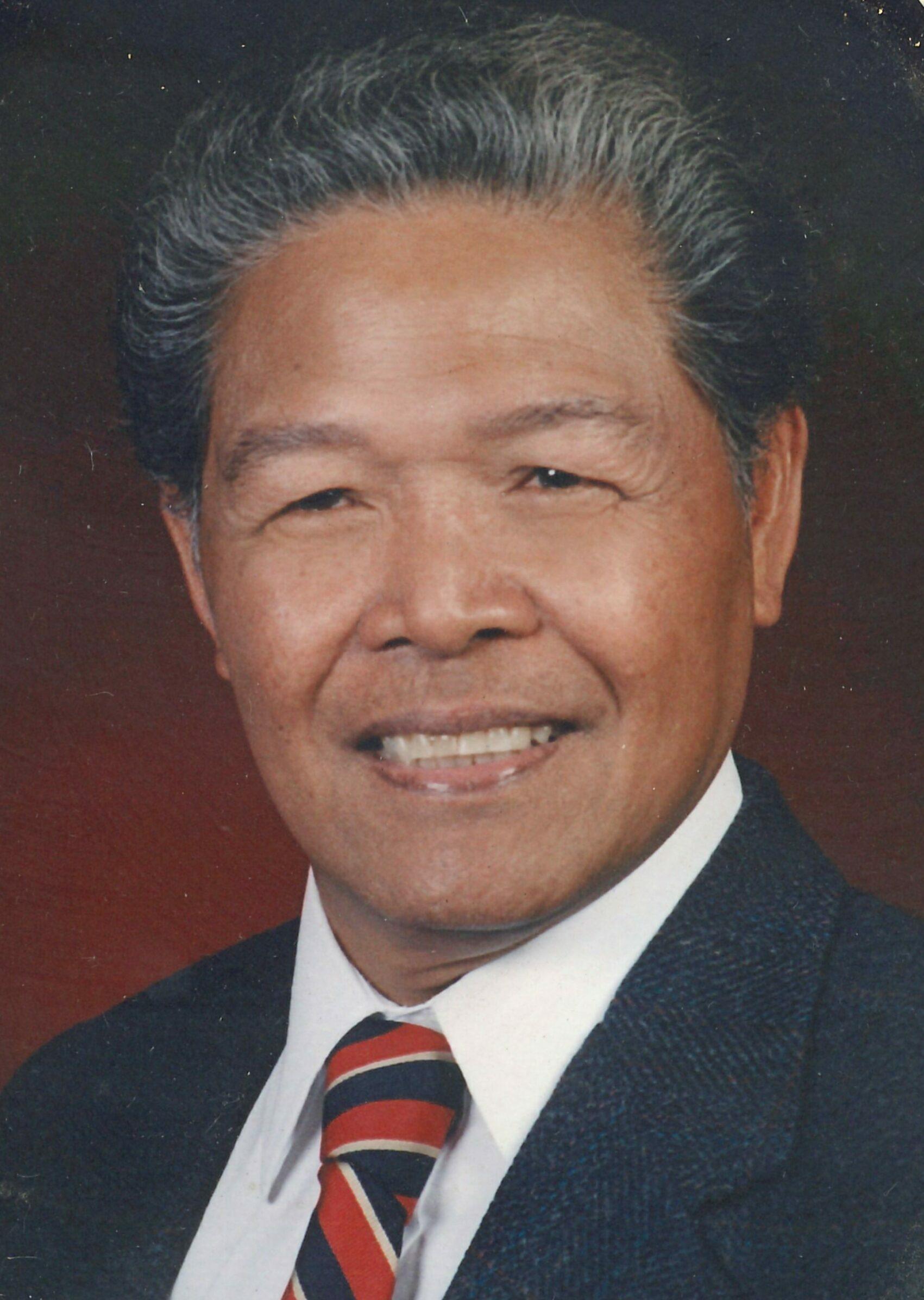 Manolo E. Juguilon
03/01/1940 — 10/26/2023
From Richland, WA | Born in Binday Philippines
Watch Service
New to Livestream? Watch the tutorial.
Public Viewing
Starts:
Thu, November 9, 2023, 11:00 am
Ends:
Thu, November 9, 2023, 12:00 pm
Recitation of the Rosary
Starts:
Thu, November 9, 2023, 12:00 pm
Ends:
Thu, November 9, 2023, 1:00 pm
Mass of Christian Burial
Starts:
Thu, November 9, 2023, 1:00 pm
Ends:
Thu, November 9, 2023, 2:00 pm
Manolo E. Juguilon
Manolo E. Juguilon, "Lolong", age 83, passed away peacefully on October 26, 2023 in Richland, WA. Lolong was born on March 1, 1940 in Binday, San Fabian, Philippines to Gregorio Ymasa Juguilon and Soledad Ergino Juguilon.
Manolo attended The Mapua Institute of Technology (Manila, Philippines), receiving his Mechanical and Electrical Engineering Degrees, married Lilia "Lily" G. Juguilon in 1965, celebrating 58 years of marriage together in 2023. During this time Manolo and Lilia had three children: Judith "Judi" G. Juguilon-Andrew, Michael G. Juguilon, and Manolo (J.J.) G. Juguilon. They later settled in Richland, WA in 1978.
With only $50 in his pocket, he emigrated to The United States seeking a better life, ultimately deciding on San Francisco, CA in 1968. Manolo's first job was as a Professional Engineer at The Pacific Gas & Electric Co. in San Francisco, CA, where he honed his skills and made lifelong business connections.  As he longed to increase his engineering knowledge, he moved on and worked as a Project Manager for the construction of Bank of America's 9th Street location in San Francisco, as well as Bechtel Corporation (San Francisco, CA), The Los Alamos National Laboratory (Los Alamos, NM), and The Savannah River Plant (Savannah, GA) just to name a few. He retired as the Project manager for Westinghouse Electric Co, Fluor Daniel Hanford at the Nuclear Reservation in Richland, WA.
One of Manolo's greatest legacies and source of pride was providing assistance in sending individuals to school. Over the years, he sponsored numerous nieces and nephews to attend college to study Engineering, Law, Nursing, Teaching, and Business. Having successfully accomplished this mission the 32 students graduated and are now employed as successful professionals around the world. In addition, as a loving uncle, Manolo also sponsored his niece's young family of six in 1994 for immigration from The Philippines to The United States. They established themselves, became American citizens, as well as successful professionals.
Manolo also loved to travel and was the consummate globetrotter. Never wanting for anyone to miss out on all of the experiences he'd had while traveling with his wife Lilia (Lily) earlier in life, he also traveled and cruised around the world with his family of 12, thus creating lifelong memories to regale others with upon meeting. His favorite was Egypt, which included a 6-hour camel ride to witness the sunrise on the top of Mount Sinai (Egypt). Other favorites included the country of Brazil, The Holy Land (Israel, Jordan, Egypt), exploring Petra (Jordan), The UK, the country of Spain, "The Imperial Jewels of China" cruise which included visiting The Three Gorges Dam, The Philippines, just to name a few.
In his spare time at home, Manolo loved to garden and was a huge sports fan. He was a die-hard fan of the San Francisco 49ERS, being loyal to the city that embraced him having arrived from overseas so many years before. With his numerous friends he loved to play Scrabble, Mexican dominos, golf, play tennis, go skiing, fishing, crabbing, camping, bowling, cycling, and traveling to mention a few. He was also an active member of Christ the King Catholic Church in Richland, WA where he had several roles over the years as a Collector, Usher, Greeter, Eucharistic Minister, Active in Visitation Ministry, volunteer at the annual Sausage Fest fundraiser as a cook in the Corn booth and an attendant in the Beer Garden for many years. He was also the first President of the Filipino-American Association in the Tri-Cities for several years.
Manolo was preceded in death by his parents Gregorio and Soledad Juguilon, his brothers Gregorio Jr., Virgilio and Renato, and his sisters Lyda and Estella.
Manolo is survived by his wife of 58 years, Lilia "Lily" G. Juguilon of Richland, WA, his children Judith "Judi" G. Juguilon-Andrew and her husband James of Renton, WA, Michael G. Juguilon and his wife Ana of Federal Way, WA, and Manolo G. Juguilon of Richland, WA, his grandchildren McKenzie, Mason, Maxwell, McKinley and Sophia, as well as his sisters Merofe and Jean.
A Public viewing will be held on Thursday, November 9, 2023, from 11am-12pm at Christ the King Catholic Church in Richland, WA. A Recitation of the Rosary will follow the viewing and will begin at 12pm at Christ the King. The Mass of Christian Burial will begin at 1pm at Christ the King.
A Message from the Family:
We would like to extend our heartfelt gratitude to all of our family and friends for helping us honor an amazing man – a beloved husband, father, grandfather, uncle, and friend.  A special thank you to Christ the King Church (Richland, WA) and the staff at WindSong Memory Care (Kennewick, WA) for their unwavering love, care & encouragement.  Lastly, a never-ending thank you for everyone else for their words of kindness, sympathy & condolence during this time.
Lily, Jj, Judy, Mike and family. I'm so sorry to hear of Manolo's passing. He was a lovely man and his smile lit up the room. I'm sure you'll all miss him.
Rest in peace Uncle Manolo. We will always remember you. May your soul rest in peace.
Sending my most heartfelt sympathy to the whole family. Know that you are all in my prayers.
Our condolences and prayers to the bereaved family. Farewell to our benefactor and inspiration, uncle Manolo, may your soul rest in eternal peace.
Dear Uncle Lolong,
The Almighty has now called you for Him eternally with the hope that you would welcome us all your relatives up in Heaven. A job well done for what God has entrusted you in this pilgrimage of life. Please pray for us all as we continue our pilgrimage of life here on earth.
I could have flown to attend your funeral but the message only came yesterday. Requiescat en Pace pangamaen.🙏🙏🙏🌹🌹🌹
My deepest sympathy goes out to the Juguilon family. Although I didn't know him in earlier years the time I knew him at Windsong he had an infectious smile that warmed your heart. A memory I have is when he first moved into Windsong. I was wearing a Seahawks shirt and him a 49ers. We both did thumbs down. He gave me a look and then smiled,laughed and said "you still okay"As I read his obit I see a loss of a great person with so many accomplishments. He will be missed dearly.
I admire the tenacity and strength of character that he had to succeed and thrive despite the many trials that immigrants in this country face. I owe my life and the opportunities that I have been afforded to his sacrifices and I will be grateful for that forever.
My heartfelt sympathies to Lily and her family on their loss of Manolo. I enjoyed talking with him at many events he attended with Lily. And, I was amazed every year with a Christmas letter account of their world travels and family gatherings. What an amazing, kind and generous person!
God bless and keep you Manolo. And, God please watch over Lily on her great loss.
Our sincere condolences during this time. We will forever remember Manolo and his huge smile and contagious laugh. He Loved You All Fiercely. He treated everyone as family and we are honored to call him our family as well. We love you all! Julie, Charlie, Abbie, Sammie Jo and Paula
I am so sorry for your loss. Whenever I practically lived with the Juguilons, including sleepovers in the summer that lasted for weeks. Lily and Manolo embraced me, fed me, and treated me like family, I grew up with them, and I love them like second parents. I love all of you, the entire family I grew up with, and especially Judi, my one of a kind, perfect match, best friend. God is with you and can and will heal you. xoxo
You have our most sincere condolences. May you and your family find peace and comfort during this difficult time. May the Lord bless Tito with eternal peace. You are all in our prayers.
You have our most sincere condolences. May your family find peace and comfort during this difficult time. May the Lord bless Tito with eternal peace. We are praying for all of you.
My condolences to the Juguilon family..
My condolences to the entire family. Thank you for giving me an amazing life long friend with your son JJ.
Brian Castelki
My condolences to your family. I only met Manolo a couple of times, but I know he was an important force in many lives.