Planning a military honors service for a loved one is a monumental task, filled with both emotional gravity and ceremonial details. At funeral homes in West Richland, WA, like ours, we are dedicated to ensuring that these services not only honor the life and service of the veteran but also create lasting memories for their families.
Understanding the Importance of Memory Preservation
Preserving the memory of a military honors service is more than just remembering the details of the day. It's about honoring the legacy of the deceased and the sacrifices they made for their country. Memory preservation can provide a tangible connection to the past, helping future generations understand and appreciate the magnitude of their loved one's service.
Creating a Visual Record
One of the best ways to preserve memories is through a visual record. Professional photographs and video recordings of the service can capture both the solemnity of the occasion and the moments of personal connection. These visual mementos can become treasured keepsakes that allow family members to revisit the day and share it with others.
Collecting Service Artifacts
Service artifacts, such as the ceremonial flag, the presentation of medals, or the funeral program, are meaningful mementos that can be preserved. They are physical reminders of the service and the honoree's military career, and they can be passed down through generations.
Crafting a Memory Book
A memory book can be a powerful way to gather photos, letters, service records, and other mementos in one place. Family and friends can contribute their own memories and reflections, creating a comprehensive narrative that encapsulates the honoree's life and service.
Creating a Virtual Memorial
In our digital age, a virtual memorial can be an effective and accessible way to preserve memories. This can be a dedicated website or social media page where photos, stories, and tributes can be shared. A virtual memorial allows those who could not attend the service to participate in the memory preservation.
Preserving Stories and Anecdotes
Every service member has a story to tell, and preserving these stories is a crucial part of honoring their legacy. Recording oral histories, writing down anecdotes, and collecting letters or diary entries can provide a rich, personal context to the veteran's military service.
Choosing Einan's at Sunset Funeral Home for Military Honors Services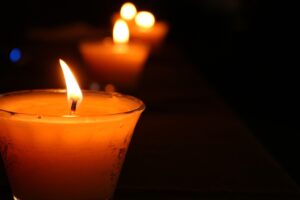 When it comes to arranging a military honors service and helping to preserve its memory, you need a funeral home that deeply understands the importance of these traditions. Here at Einan's at Sunset Funeral Home, one of the respected funeral homes in West Richland, WA, we take pride in our commitment to honoring our veterans. Our dedicated staff will guide you through the process, ensuring that every detail is handled with the utmost respect and dignity.
We understand that preserving the memory of a military honors service is a significant part of honoring your loved one's legacy. If you need support in planning a military honors service or advice on memory preservation, don't hesitate to reach out to us. You can find us at 915 By Pass Hwy Bldg H, Richland, WA, or you can call us at (509) 943-1114. Allow us at Einan's at Sunset Funeral Home to assist you in creating a lasting tribute to your loved one's honorable service.